---
2/28/07 at 06:27 PM





What is your location?

New York



Comments:




Vicki, the release date for HBP is Nov.21,2008 in the US and UK and a few other countries as well. That in itself is quite unusual for WB to announce the release date so far in advance. The time between the OOTP movie release (July '07) and the HBP release is very short in "movie times". I have a feeling that the last movie will also be released in as short amount of time as possible from HBP in order for WB to keep the main actors under contract.

I definitely understand everyone's comments regarding Alan and Snape. However, even though he is too old to be playing the character in the movies, I now couldn't see anyone else playing Severus. Although, I do admit, that when I read the books, I don't necessarily have Alan in my mind.
---
2/28/07 at 03:30 PM
Comments:
But only because he looked about 14 when he was Obadiah
, at least much younger than he was.
Fair enough, that fan-argument
---
2/28/07 at 03:24 PM
Comments:
OMG, I meant *wig* of course. No, he is perfect as he is - and he definitely looks much better than JKR's Severus - but I don't mind, lol
---
2/28/07 at 03:21 PM
Comments:
I don't know, Pudd and Alfan, Alan in his Slope-time looked far too young for Snape imho and with the wick he doesn't look 60 anyway. Okay, 10 years younger would have been fantastic, but I am sure he wouldn't have survived 60 million more female fans
---
2/28/07 at 02:26 PM





What is your location?

Los Angeles



Comments:




Well......yeah, I guess so!
---
2/28/07 at 02:24 PM
Comments:
Looking too good for Snape you mean
---
2/28/07 at 02:16 PM





What is your location?

Los Angeles



Comments:




Alfan - LOL! I think I'd like to hear a few more details about that story. *me - picturing you dangling from a window*
Thank Keith for his kind words....it was my pleasure.
Re: Snape, I think AR looked pretty sexy as Severus in the first two films. The third film he had put on a little weight (not a criticism, just an observation) and the fourth film he looked better but he had just too little screen time to suit me. HP6 begins filming this summer and will probably be released fall 2008...or have they already mentioned a release date? Somewhere I think I may have read that.
So, just guessing here..not starting rumors...HP7 will probably begin filming late 2008 or early 2009. By that time, AR will be 63, portraying a man in his mid-thirties! My feeling is, as long as he remains in relatively good shape, he should be able to pull it off. I think the wig and black frock coat create a sort of ageless look and the only thing that may betray his age would be his face. So far, I think he is still looks incredible for his age.
---
2/28/07 at 02:11 PM





Comments:


Indeed, SnoKat, I rather picture him like a meaner Obadiah, too. AR was even as unnaturally slim as Snape should be imho. It would have been perfect. But I guess, nowadays, it is as perfect as can be. And I WANT to see AR cast that unforgivable spell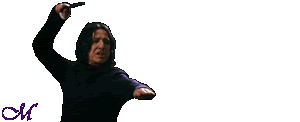 HARRHARR!
---
2/28/07 at 12:34 PM
Comments:
Pudd, I agree with you. Alan is too old to play Snape. When I picture Snape in my mind, he looks more like Alan did around Barchester Chronicles time. But Obediah was basically a better mannered Snape without the wig anyway! But yes, I'd mourn horribly if he ever was replaced.
---
2/28/07 at 11:32 AM





What is your location?

Canada



Comments:




Me and windows dont get along as I tried to climb out a window once at a friends cabin and the darn window shut on my foot and i was left there dangling while my firends laughed and laughed at me,,,,,,very funny. It was funnier when they tried to open the window and catch me ( ok, alchahol was involved ),
---
2/27/07 at 09:38 PM
Comments:
ROFLLMAO Hikity! YES, we know him! He is Uncle Dursley from Harry Potter and he is too FAT to climb out a window! *snort*
Now, having said that, no offense to fat people. I'm also too fat to climb out a window!
---
2/27/07 at 04:05 PM
Comments:
Don't forget AR also said he would be playing on and on, even in a wheelchair. I can imagine a flying wheelchair above Hogwarts in Harry Potter 6 when Severus finally sends Dumbie down the tower. Great stunt. Not only the wheelchair bit.
(Yes, before you ask, I do think AR is much too old for the part - still, I would not want to see any other actor take his place as Severus.)
---
2/27/07 at 03:08 PM
Comments:
He can't cry, Pudd, he will be speechless and so proud, O.M.G.
And I had a sore finger, too, as we had a hell of a lot of fun on the board - except for the end of it. But these huge reminders give me a headache, sorry folks
Cats posted sth interesting: we should investigate into this matter. Ever since our wonderful, adorable Alan uttered some "funny" ideas about his age and the possibility of not playing much anymore, I have been worrying if there might be a grain of truth behind his utterances (I didn't know he coquets with his age- would be a new side of him imho). Therefore, instead of any silly voting, let's look into Duncan (and Fielding/Irons and whatever you think is worth) and maybe he FINALLY plans to go back to the stage which is - as we all know - the world! For me, it would definitely mean the world if I see him on stage, wow.
Nightynight, ladies, have to do some ironing while watching Help, I'm a fish
---
2/27/07 at 11:40 AM
Comments:
SnoKat, you mean Alan does NOT cry for joy when he wins a poll???
---
2/27/07 at 11:19 AM





What is your location?

Canada



Comments:




Hikity.......im right behind you on the post of not voting. I agree that after the Hello crap of last year. I just didnt have enough balls to say it because i didnt want to start anything.
---
2/27/07 at 11:11 AM
Comments:
Yep, all Dan's fault for being so damn hot. I personally would like to mob him. And I just feel sorry for Richard G. if he had to climb out a window.
I've ignored the whole poll things too. I'm tired of the reminders. It's not like Alan gets anything from a win from this! I mean it's not People Mag or anything really big.
---
2/27/07 at 11:08 AM
Comments:
Yeah, Dan provoked this. The little exhibitionist. Why can't he just act and be happy with it? Noooo, it has to be scandalous *lol*
And yeah, Hikity, you are right - those constant reminders of votings are too much and ignored by the maority anyway. I could not resist commenting on the Hello poll though, because it was so utterly sick last year. I still have a broken forefinger from back then
Hope that can be forgiven
---
2/27/07 at 10:57 AM
Comments:
Do we have to know this guy, Cats? Is he too old to climb through windows? As for Dan, well, that is his problem from now on, haha
---
2/27/07 at 10:35 AM
Comments:
Richard Griffiths climbing out a window, Carolyn?? Oh my GOD!
---
2/27/07 at 10:02 AM





What is your location?

New York



Comments:


OK...so I know this isn't funny, but for some reason, I still chuckled. According to a couple of sites, 400 fans mobbed Dan Radcliffe as he was leaving the theatre. It was so bad that they had to call police to hold back the crowd and his costars (including Richard Griffiths) had to climb out a window from the theatre in order to escape!
---
2/26/07 at 07:48 PM





What is your location?

Canada



Comments:




Vicki- Keith is one of the most understanding wonderful person i ever met. He knows its all harmless and he doesnt mind at all my little fascination with Alan. He actually likes him and many of his movies ( trust me, i made him watch them all, his favorite is Snow Cake then Somthing The Lord Made ).

I just dont know where to put them now, hmm. Maybe in the computer room since this is where i spend all my time ( well, mostly )

P.S I dont know if he ever had the chance to thank you for the wonderful ingraved goblets but here,,,,,,

THANK YOU VICKI, YOU ARE MOST KIND AND THOUGHTFUL..........KEITH.
---
2/26/07 at 05:14 PM





What is your location?

Los Angeles



Comments:




Feelin' free........
Alfan - you lucky girl!!! What a perfect wedding gift for one of the Biggest Rickman fans in the world!! Does Keith know about it yet? If so, what was his reaction?...or will it be a surprise? Inquiring minds want to know!
---
2/26/07 at 02:01 PM





What is your location?

Canada



Comments:




Not to worry Hik, yours is on its way....and with the postal system it should take oh about two months, hee hee
---
2/26/07 at 12:49 PM





Comments:


Congrats again, dear Alfan, what a wonderful "little" wedding present
---
2/26/07 at 11:21 AM





What is your location?

Canada



Comments:




LEX--------- I got it ,i got it, i got it. Thank you thank you thank you. You are a
Im so excited that i think i soiled myself ( ok, not really but close) and the poem is great for our wedding
Excuse me while i go do a little dancin and bouncin.
---
2/26/07 at 04:33 AM





Comments:


As an occasional poster but devoted reader, I was glad to see that there was some genuine and articulate and NOT flaming criticism of the Book Issue. I felt very uncomfortable reading about it, and thought the whole situation was kind of surreal. I'm sure if AR received the book, he was gracious and kind about it, as I hope I'd be if I were in his shoes.

And, lest I become tactless, I'll stop there.


---
2/25/07 at 09:20 PM





What is your location?

USA



Comments:




Ladies, thank you for voicing your opinions about this self-published author. I fear that she might be mis-leading about AR's involvement just to gather attention. Yes, it does seem to be on a timed-basis - guess it was time once again for some drama!
---
2/25/07 at 08:51 PM
Comments:
Thank you, booklover. I had been feeling that I was a bit harsh or insulting, which was certainly not my intent. I realize that it is not my place to "burst bubbles," and I really do think it is awesome that Susan finished a book-length project. There are people out there who dream of doing this. I hope she goes on to write other things.
If Puddingdale is reading this, I just wanted to say that I hope you don't feel badly for sharing your honest thoughts, which I thought were stated very directly and with respect. I would hope that those who are praising the book so highly understand what others are saying, and why. Professional reviewers and critics can cut to the quick; I found the criticism to be quite tame in comparison. Regardless of whether the popular opinion is favorable or unfavorable, it always takes courage to post a dissenting opinion, and I applaud that whenever I see it.
What else is a discussion but free and respectful exchange of opinions and ideas? Naturally we will differ on things. Thank goodness, too, or how boring would Internet communities be?
---
2/25/07 at 08:49 PM
What is the URL of your HomePage? (include "http://")
http://www.snapekat.livejournal.com
Comments:
You know, I'm all for shameless self promotion! I write fan fiction!! But I also don't make any money off of it. (though if anyone would like to contribute, please make checks payable to Snapekat!). Seems to me like that is something that people are feeling sort of bent out of shape about, as well as the "supposed" connection to AR.
I haven't read this book, but I was very curious about it and have found all of these opinions very interesting.
---
2/25/07 at 08:39 PM
Comments:
Claudia, if you feel the need to delete my last post off the main GB, I completely understand, and I apologise for going off-topic there. I mistakenly thought it would be all right to post my thoughts there since the book was advertised and discussed there on two or three previous occasions with no objections then.
Bookworm, have you read it? I'd be very interested to hear your thoughts, if you'd like to share them, and if we're permitted to discuss this here.
---
2/25/07 at 08:28 PM





What is your location?

the west



Comments:


I'll join in, book worm. EF's post was right on in a very respectful way. Completely agree.
---
2/25/07 at 08:09 PM
Comments:
Feel free not to join in, then Vicki.
---
2/25/07 at 07:35 PM





What is your location?

Los Angeles



Comments:




Not really.....I think that's been covered over on the main board....ad nauseam.

I'd rather see a less controversial subject myself....but that's just me. You guys do what you want. This board is for any and all subjects.
---
2/25/07 at 06:33 PM
Comments:
Doesn't anybody want to dish about Susan's "book" (for lack of a better term)?
---
2/24/07 at 04:34 PM
Comments:
Pam, wonderful!
Vicki, haa, after all my knowledge of this great language does not seem too bad
.
Thanks!
As we speak of books:
I am no better - at the moment I'm reading two, and one has already been looking at me for some time (or is it the other way round?): Madame Depardieu and the Beautiful Strangers; The String of Pearls and - after I'd seen this fantastic mini series (R Armitage

)- North and South

A lovely weekend to all of you
Hikity
P.S. Guess: who might be these two beautiful women

and this
one relaxing in the sun (at least in our minds)?
---
2/24/07 at 01:32 PM





What is your location?

Los Angeles



Comments:




Pam - oh that's wonderful news about your son! I'm so glad your son has turned the corner. Here's hoping for a continued good recovery.

A couple of weeks ago, I was looking for books to read while on a weekend trip and actually picked up Rasputin's Daughter and nearly bought it. I opted instead for Darcy's Story instead which is also pretty good. It's Pride and Prejudice from Darcy's point of view....I'm a sucker for romance. But if you recommend it, I think I'll get it for the next trip coming up.

Hikity - we use operation as an alternative word for surgery also. Either one is acceptable.
---
2/24/07 at 09:58 AM





What is your location?

Massachusetts



Comments:


Hi guys,
just got a chance to get on here again. Thank you so much for your kind thoughts and prayers. It must have helped as my son came through the surgery with flying colors as they say. After a year of suffering with this cyst (near the buttocks area) I do believe we finally found someone that can help him. We found a pediatric surgeon in Boston that knew right away what it was and how to heal this thing up. He said he should be healed within 4 weeks and gave us the instructions for daily care. We go back to see him next Thursday, so hopefully this cyst will start to finally heal.
Last week when I was shopping I came across an interesting book that I thought you guys may enjoy also.
Its called Rasputins Daughter by Robert Alexander. I only got to chapter 2 so far while waiting for my son the other day, but as he describes her father I think or AR role as Rasputin!
Ill let you know what I think when I am finished with it, or perhaps someone else has read it?
I also found another book or you can go to Mugglenet.com and read it. I prefer the book as I can skim through the chapters at night, called What will Happen in Harry Potter 7-who lives, who dies, who falls in love, and how will the adventure end?
I found it at our local store The Christmas tree shop for only 4.00 so thought, what the heck-there is a chapter all about Snape in there too, about his character-his strengths, weaknesses, etc.
I am reading both this books at the same time!!! The HP one is good for night when yiu cant sleep.
At any rate, thanks again everyone. We all appreciate your kind thoughts.
Take care and will try to stop by again soon. Have a great weekend.
Pam


---
2/24/07 at 04:32 AM
Comments:
Pam, sorry, I meant "surgery" of course - operation is the German word for it (nice false friend). My thoughts are with you!
---
2/23/07 at 05:13 PM
Comments:
Pam, I think of you and your son and wish you all the best for the operation!
Chris, how are things?
Peek, I'm sooooo tired _ swimming lesson was o.k.
---
2/22/07 at 03:49 PM





Comments:


Pam, my thoughts are with you and your family. Please keep us updated. I wish you all the best.

Chris, my partner in crime. Long time no "see." How are you?



---
2/22/07 at 10:29 AM





What is your location?

GA



Comments:




We only had three entries in our AR birthday card contest this year. Between the three...its VERY hard to name just one winner (they are all soooo good!). I know all three put heart and soul into their creations so I am going to name Chalbh, Cyntilla, and ilwe@wanadoo.fr as our grand prize winners!!!! All three will recieve the Alan Rickman READ posters!

Speaking of the READ posters. I just have to spill the beans on a truly huge helper with this contest's grand prizes. Shortly after I announced the contest, Marlene contacted me and offered the poster for the grand prize and absolutely would not take any money for it. She was so sweet in saying that she wanted to contribute to our group in this way. She was patient with me and held off mailing it until after I got into my new apartment and then....I was terribly late letting her know it arrived safely (I am sooo bad!). Any way, now that she knows that we are going to award three posters, she has already offered to help on those too. Thank you Marlene! You have been a blessing!

Chalebh, Cyntilla, and ilwe@wanadoo.fr, email me your mailing address and I'll get the posters out to you as soon as I can! Congratulations!!!
---
2/22/07 at 03:49 AM





Comments:


Pam, I do hope the surgery will be a success and that your son will recover soon, I can imagine what you must be going through. Be strong. It'll be ok, i'm sure.

---
2/22/07 at 12:41 AM





What is your location?

Los Angeles



Comments:




Pam - I will be saying a prayer for your son and your family. I wish you all the best. I hope all goes well. Please let us know.
---
2/22/07 at 12:02 AM





What is your location?

Massachusetts



Comments:


Hi everyone,
I feel like I have been away for ages. First of all a big HAPPY BIRTHDAY to Alan.
Hope he had a great one!

Please think of my family tomorrow as my son faces surgery in Boston for that awful cyst that hasnt healed up. (its been 9 months now) and we met with a Pediatric Surgeon today that said he wants to do the surgery asap as it looks like the tissue is getting infected. Needless to say, he was very anxious and didnt want the surgery and broke down with all his fears etc.
Please wish us luck and say a little prayer if you can.
Will check back here sometime Friday as they want us to stay overnight also with him and go home Friday morning.
Thanks guys and take care. Off to read some AR things before bed as I cant sleep thinking of the surgery.


---
2/20/07 at 02:22 PM
Comments:
Susan, we are ONLY joking!!! Don't take us too seriously, okeydokey...
---
2/19/07 at 02:21 PM
Comments:
Thanks for the champagne, Mrs Slope! I am looking forward to hearing the sound track. Any hints??
---
2/19/07 at 01:42 PM





What is your location?

Plumstead



Comments:




*lol* Well said, my partner in crime, well said... !!
There'll be premiere seats reserved for those few chosen ones who're in the know. And forgive the ignorant for they know not what they do...
Btw, I just heard rumour that there'll be a LOVELY soundtrack for Westbourne Mansion.
Cheers Puddi and Hikity *pouringthreeglassesofchampagne*
---
2/19/07 at 04:04 AM
Comments:
Yeah, and judging from the synopsis it will be a great success among certain people with a taste for the trivial
However, Westbourne Mansion does not seem to have left an impression on the sophisticated few who'd rather discuss their own more realistic romantic dreams than those of the ingenious minds behind Slow Blink Productions.
So, we can only hope the movie will find a distributor ...
---
2/18/07 at 05:44 AM
Comments:
Well, Chalebh, I cross my fingers for you, but there are umbrellas available in England
and a stroll through the Westbourne area could be interesting, too, as a birdie told me (actually two birdies
) that the production of a film called Westbourne Mansion is going to be produced in April
---
2/18/07 at 04:03 AM
Comments:
Thanks for the tips.
Well Tiroler Hut I would definitely call exotic. *g*
And Hampstead sound good to spend a day there.
I hope the weather is good and we don't have the rain, we lacked the last time.
Chalebh
---
2/17/07 at 04:31 PM
Comments:
Chalebh, it was Everyman Cinema Club, 5 Hollybush Vale:
http://www.everymancinema.com/cinemas/index.asp?ci=2&ln=1
and restaurants for example here:
http://www.myhampstead.co.uk/hampstead/restaurants.htm
and the stroll through Hampstead Heath (no forest
):
http://www.compulink.co.uk/~archaeology/hampstead-heath/index.htm
---
2/16/07 at 10:22 PM





What is your location?

South San Francisco, CA



Comments:




I am NOT quite sure what on EARTH you mean by my (dramatic pause) COMments... howEVer, I shall...endeavour to make a few...(soft nasal laugh)...

OK, yes, that would be AR in 1987-89, (and, of course, you must sprinkle his accent over my words...more Hans Gruber than Sinclair, and maybe a tad 2003 Snape in there too).

Lovely page and has he ever seen it? Or is he too shy to ever look, d'ya think? And these are my "comments", Are they apropos? Or should I feel like Jamie--caught in a spot I maybe don't...QUITE...belong...("and since when have you learned to speak...'like---that'..." "I've ALways---spoken---like THIS..." as Nat said).

Well, these would be my comments, and wouldn't it be lovely to think that ASPR actually ever read these? One feels, at times, that one's life is so pointless. I don't mean that to be intentionally GLOOMY, but when I see AR's expressions during interviews within the last 8 years, morose and a bit despondent--well, that would also sum it up for me.

Or am I interpreting too much...??
---
2/16/07 at 07:50 PM
Comments:
Alfan, hubby just suggested spending our summer holidays in CANADA....BUT holidays for me start at 21 June so we come after your wedding - pity - but nevertheless we'll meet...let's organize this via e-mail!
---
2/16/07 at 01:39 PM





What is your location?

MS



Comments:




Hello My Beloved Droogs-

We have landed!!! I'm now

in Mississippi! Very busy and lots to do.

Has taken me forever to get to a computer.

Have I missed anything spectacular?

This has been an interesting move for me,

but so far, for the good. I've missed getting

silly and nuts with you guys. However, right

after I moved in and got my satellite and TV

sorted out, "Judas Kiss" & "Prince ofTheives"

came on back to back! I believe it was a reminder

to connect with my fellow Alan-lovers!

So, any "earth-moving" happenings?

Hope everyone is well and good!

-The Nick
---
2/16/07 at 01:23 PM





What is your location?

Canada



Comments:




Hikity,my wedding is June 16th,,,,,,,,gods its coming so fast. I just bought about $800.00 worth of wedding stuff. You will probably just be finishing up school then as we are here in Canada not finished till the end of June. Keith and i are leaving for NY ( driving ) on July 5 and will be in the states for the HP movie and book release,,,,,,,,,ohhhhhhh poor Kieth.
---
2/16/07 at 01:15 PM
Comments:
Alfan, thank you soooooooooo much for your invitation. would you please let us know again, when exactly you are going to marry? As I am a kind of teacher now I am not free to take holidays whenever I want to go....unfortunately these are things I never thought about before I applied for this adventure (I mean of becoming a teacher
)
---
2/16/07 at 01:13 PM
Comments:
Yes, Chalebh, Vera suggested a really nice area - we went there in September to meet our Man and around the cinema are loads of nice little restaurants with fair prices. I'll have to check again the exact address of said cinema. There is a tube station very near by, too. You can walk through some kind of forest or so - Let me check again for you
---
2/15/07 at 06:40 PM
Comments:
If you don't know hampstead yet, that's definitely worth a look. It's next to Camden Town, and two years ago, I first visited Hampstead and then strolled over to Camden Town. It's as if you're suddenly on another planet.
---
2/15/07 at 11:30 AM
Comments:
What about Westbourne Grove treating yourself to some organic bananas and afterwards some Sauerkraut at the Tiroler Hut
---
2/15/07 at 02:14 AM
Comments:
Ladies, I hope you could give me some tips for my next stay in London (late April).
I don't care for the obvious tips you can find in every travel guide (and as it is my 6th stay in town I think I might have covered them all).
What I'm looking for is
1. Interesting places to eat, something along "Brick Lane" or "China Town" but not too expensive
2. Areas outside the city centre like "Islington" (but within the Zone 1 and 2)
Maybe I should tell you what I've planned so far
South-side of the Themse from Borough Market to Lambeth Palace (including Tate Modern)
Chiswick House
Camden Market and Camden Town
Docklands (Canary Wharf) and Greenwich
Royal Academy of Arts and the "shops" around (like Fortnum & Masons, Burlington Arcade or Liberty's) *just looking*
several London Walks and of course Oxford Street
So if you know a nice exotic restaurant or an area I really have to see, it would be nice if you could tell me.
Btw: If the weather is fine there will be also a trip to Windsor, which I had planned for years but never have able to make.
Chalebh
---
2/14/07 at 12:10 AM





What is your location?

Canada



Comments:




Oh, oh, I feel an Alan quote coming on

" I COME TO ISSUE AN INVITATION"

Peek and Hikity, heres how it is. If you guys even think of making your way down to my wedding then i gauren-damn-tee you that you guys wont have to worry about a place to stay, places to eat or how to have a good ole Canadian good time with Molson, golf, and pool. I feel totally honored that you would even remotly think of making your way, i know that its possibly talk but i swear if you do, i will take care of you's.

Uh, you guys wouldnt be able to wrap up Alan and give him as a prestent to me, would you..hee hee
---
2/13/07 at 02:43 PM





Comments:


Well in fact Alfan, Hikity and I had visions of knocking on your door just before your wedding... you know like a little surprise. Do you have room for two crazy European girls?

---
2/13/07 at 04:54 AM
Comments:
OMG, Alfan, I am so sorry - just seen your post and mail - wonderful news, luv! Hope one day soon I have the chance to knock at your door to say thank you in person to you
---
2/10/07 at 04:54 PM





What is your location?

Canada



Comments:


Hikity,,,,,,,good news my friend, i found the missing tape so you will be recieving the full 12 tape version of Return of the Native.............enjoy.
---
2/08/07 at 05:26 PM





Comments:


Hikity, hang in there sweetie. Somehow youŽll find your way. And be prepared for North and South. It was my favorite series many years ago.

Nick, I hope you found your way around in the new state.



---
2/08/07 at 12:01 PM
Comments:
Hikity, I told you: your teachers do not have the faintest idea either. And nobody likes what they have to do during teacher's training. But if you do not like the subject - fair enough. For me English was the worst during training and now I love teaching it.
Well, whatever you decide - good luck!!
---
2/08/07 at 11:17 AM
Comments:
Vicki, no, it is not that easy - you have to sit in different classes, you have to prepare lessons, you have to go to courses....
Pudd, I fear I won't do this kind of schooling for long. Today was the first Sport-Seminar - and I didn't like at all what they want us to do, plus, to be honest, I haven't got the faintest idea of this subject. I finished my studies 24 years ago...I have to look for alternatives (i.e. for teaching English).
---
2/07/07 at 07:08 PM





What is your location?

Los Angeles



Comments:




Nick - I might be a couple of day late, but here's one in your honor.
Hope the move goes well....let us know when your feet have landed somewhere new.
Hikity - Hope all went well today. Will this be your first day of teaching?
---
2/06/07 at 02:04 PM
Comments:
Pudd, so sweet of you, tks for your support!
I MUST shut down the computer now - there is so much to do such as
What you can't do tomorrow put off until the day after tomorrow, yeah
Nightynight everybody
---
2/06/07 at 01:02 PM
Comments:
Good luck Nicky, wish you a good new start!
Same for you, Hikity. You will manage - hey, even I managed and I am totally nuts *g* Just stick to the people you can rely on and remember that most of your examiners have no idea what they are doing anyway. You are the best - not them!
---
2/06/07 at 10:25 AM
Comments:
It seems, one "o" would have been enough - pure enthusiasm I dare say
Pudd, so far, the "teaching seminar" is great and its participants, i.e. the "Referendare", are all very nice
. Tomorrow will be my first day in school
---
2/06/07 at 10:21 AM
Comments:
Cheers, Nicky, and congratualtions for your courage to oopen up for new grounds
---
2/05/07 at 10:23 PM





What is your location?

GA



Comments:




Alright My Beloved Droogs-

Naughty Nick is making a move tomorow

to another state. So everyone raise a glass

and wish me luck! I'm venturing out to new

ground and I'm a bit jumpy. So, I'm having a couple of

pints and opening the bar! Who's ready for one?
---
2/05/07 at 10:20 AM
Comments:
Pudd, don't worry, be happy
Chalebh, fantastic! The North-and-South DVD, unabridged - 240 min- (or whatever it is called) is available on amazon and I ordered it together with the book. The next would be Cranford then - but in English of course
---
2/05/07 at 01:43 AM
Comments:
Hikity: Judging from the BBC-Gaskell adaptations, I would recomend North and South. And if you want to buy the DVD make sure to get the UK version, because they cut the German/Dutch one. If you like Pride and Prejudice you will like this film too. With the book there is unfortunately no German translation
Another higly praised novel seems to be Cranford.
Wives and Daughters is so-so. It is a completely different style from North and South. The problem with the story in my eyes is that I would have liked to shake the heroine and slap her checks to behave in such a way, but in 19th century it might have been normal. The adaptation is good but not as brilliant as N&S. There is a German translation of this book.
---
2/04/07 at 07:43 AM
Comments:
Sorry, Hikity. Cannot help you with that. And may I shamefully add that I am not a fan of Austen...
Chalebh, I was wondering about that too. Sorry, it seems I am of no help whatsoever today. Maybe I should just curl up and be quiet...
---
2/04/07 at 06:06 AM
Comments:
Good morning,
does anybody know the account name on Photobucket for posting the birthday cards.
I tried every possibility I could imagine but they always told me no such account.
LG Chalebh
---
2/04/07 at 04:51 AM
Comments:
Pudd, I've got a question: have you read any E-Gaskell- novels and if so which ones would you recommend (after having read and seen all Jane-Austen-novels). Thanks for your help
---
2/03/07 at 06:34 PM
Comments:
Thanks for the support, Hikity!
---
2/03/07 at 12:37 PM
Comments:
@Chris - Peek, I believe she is in the middle of exams
@Nekked actors/actresses on stage: I agree with Pudd in every respect, lol. I'm not that fond of exhibitionism on stage. What is the reason Dan (or any other actor in equus) must be naked? what does it tell us? Don't get me wrong. I love to see a well-built naked man - or hundreds of them - but that's not the point here. I have the lurking suspicion it's just an incentive to drag people into the theatre.
And imho Dan is far from being the above-mentioned representative of the male population
rofl


---
2/03/07 at 08:13 AM





What is your location?

GA



Comments:




Amen Vicki!!!

Not a truer word spoken!
---
2/02/07 at 10:37 PM





What is your location?

Los Angeles



Comments:




Punxatany Phil didn't see his shadow!!! It means an early spring!

Ah, spring.....the perfect time of year for NEKKID MEN!! *cough* Seriously I think the female viewing audience gets gypped. Actresses are constantly shedding their clothes for the camera in the name of "art". Why can't we see a little more beefcake once in a while....HMMMMM?
---
2/02/07 at 07:57 PM





What is your location?

GA



Comments:




Pudd-
---
2/02/07 at 04:20 PM
Comments:
Of course he will, that is what I am preaching about while everybody else seems blind to it
Bah!
But go ahead, ye of little faith and dream of those who abuse innocent horses.
---
2/02/07 at 03:46 PM





What is your location?

GA



Comments:




Perhaps the Judge will hold

some sort of erotic value!

LOL
---
2/02/07 at 11:50 AM
Comments:
Well, I rather think anything anyone here wants is related to someone nekkid or the like. No matter whether it is Alan, Dan or a woman on a Nobel Prize winner's desk. (Probably that is why people are not squeeing at the judge: no nudity there yet and most do not know he is an old lecher.) And still no one thinks about the poor horse's mental stability - or the poor desk. And what is brave about going for the full monty? Some men seem to like that, the little exhibitionist lurking inside everyone? Or is it some kind of test of courage? But on a stage where you cannot even see the audience properly and you are protected by the aura of so-called art? HA!
What I don't get is that a young actor can live with the fact that most of the audience will only come to see him naked and not to appreciate his acting skills (which I still am not convinced of by the way). I would go for another role first to get recognized and later dive into the provocating plays. Pity I am not an actor...
P.S.: Do not take this post too seriously - it's Friday and I desperately need the weekend *lol*
---
2/01/07 at 09:30 PM





What is your location?

GA



Comments:




Hey Peek-

No, come to think of it,

I haven't spotted Chris lately.

Let's hope she's well in check.

---
2/01/07 at 05:05 PM





Comments:



Anyone heard of Chris lately?


---
2/01/07 at 03:58 PM





What is your location?

GA



Comments:




Pudd-
The Nanners are comin' to get me!
Very true, Alan projects hold more importance
over Daniel. Although, I have to say Dan is very
brave for putting on "The Full Monty".
*I love that movie!*
But what we all really want is ALAN NEKKID!!!!!
Well, at least me.
---
2/01/07 at 12:39 PM
Comments:
Yes, bananas are ... uhm ... special
And after I have experienced the yellow sweetness of those from TEH store, I cannot bring myself to buying any others. Well, I should get over it though, for there is no Planet Organic where I live *lol*
Speaking of bananas: Why is everyone going crazy over little Radcliffe's fuzzy chest? It only proves Equus will not be the play to show the public Radcliffe is a serious actor - because the public will not notice his acting but be busy with staring at his body. Probably a wrong decision that a minor should hit the stage and corrupt adults
Poor Daniel. And poor horse - does it know what it has got itself into?
Honestly, must I understand all the excitement about a 17-year-old in the nude at a time when AR is actually filming and recording Sweeney Todd? Why does nobody squee about that? What happened to everyone? AR is TEH judge, something utterly new and daring ... squuuuuuuueeee
Come on, squee after me, I know you want it
---