6/30/06 at 08:39 PM
What is the URL of your HomePage? (include "http://")
http://www.rickmanalysis.com
Comments:
Well I'll be darned, SnoKat -- that IS one interesting discovery. It's on my DVD case too....
Anyone know anything on this??
---
6/30/06 at 08:26 PM
Comments:
Well crap...here is the web addy anyway...
http://smg.photobucket.com/albums/v11/aravm98/?action=view&current=harborpic.jpg&refPage=&imgAnch=imgAnch1
---
6/30/06 at 08:25 PM
Comments:
Okay..why isn't my picture link working....
---
6/30/06 at 08:24 PM
Comments:
I need the help of the great AR research department!!
I got the DVD of Dark Harbor and of course it has NO extras. But I noticed on the back that there is a picture of a scene that is NOT in the movie. To me it would look like a very crucial piece of the story! But I'm guessing it was edited out...then WHY put it on the back of the DVD case to tempt me??? So I'm posting the pic and does anyone have any information about this scene and what happens??
---
6/29/06 at 06:16 PM





What is your location?

Los Angeles



Comments:




Oh, good lord, Claudia.....go for the electric. My mom bought a hand crank freezer when we were kids because she thought it would be "fun" for the kids to experience how people used to make ice cream. Well, I'm here to tell you that the "fun" fizzled out pretty quickly and nobody wanted to crank the damn thing for as long as was required to make the ice cream. At 70 (congrats to him, btw) I'd say he'd appreciate the convenience of an electric one. But, that's JMO.

Good to see you back!!
---
6/29/06 at 03:04 PM





What is your location?

GA



Comments:




Hey yall!!! Even though I don't post as much as I used to, I still peek in quite a bit and its always fun to see what yall are talking about!

I need some opinions. My sisters and I are planning a big shin-dig for our Daddy on his 70th birthday in September. We want to make his favorite Black Walnut ice cream so I am looking at ice cream freezers. I'm torn between an electric or hand crank. I want to buy something that will last a while since I know the grandkids would love homemade ice cream from time to time. If anyone has some experiences with freezers they want to share, you can post here or you can email me.
---
6/29/06 at 02:21 PM
Comments:
Okeydokey, thanks again!
---
6/29/06 at 02:06 PM
Comments:
She's called Rapunzel over here too as far I know!
---
6/29/06 at 01:37 PM
Comments:
Back again...
Sue, thanks!
I have a question to our native speakers: who is familiar with Brothers Grimm fairy tales and knows the English name for Rapunzel (my professor wants to know, haha). Rapunzel is the girl in the tower who lets her hair down
---
6/29/06 at 01:34 PM
Comments:
Hikity, Chris is in the middle of exams but she has posted yesterday on Catsplay's LJ
---
6/29/06 at 01:20 PM
Comments:
Sue, Peek seems to be very flexible, indeed. She worked in a circus for years, now she is a fitness trainer,
pfffffff
Yeap, TVG is somehow a flop (correct vocabulary?) - he was after all honest to Susan (that sounds like Brandon to Elinor about Willoughby)
I am in a good mood today. In our Yeats course we had another of his sexy poems - my my, if you start reading between the lines you could blush
CU, have to cook now
---
6/29/06 at 01:20 PM





Comments:


MrsDoylesCat, you should see me... you would be surprised!
---
6/29/06 at 01:13 PM
Comments:
Peek, I thought of Chanel, but if you prefere Gucci, why not...
Laura, I have no problems at all with those smilies, but I cannot open the ones here anymore. Somehow, my firewall won't allow it after an update. Haven't yet had time to ask an expert to help me. Just try the smilies - you can always cancel it if you don't like it, can't you?
Does anybody know where our dear Chris from Romania is??? Missyou. Maybe it's too hot to sit at the computer??
Ladies, tomorrow evening we will finally know whether Germany does not import any goods any longer from Argentine or Argentine doesn't send anything to us any more
---
6/29/06 at 01:10 PM
Comments:
Quote:
I´m a flexible girl
O RLY???
Can you bend over backwards!??!
---
6/29/06 at 12:14 PM





Comments:


Hikity, you mean we´re going to do the Gucci-thing in Dusseldorf instead of Nice? Well okay then, I´m a flexible girl *cough*

---
6/29/06 at 11:55 AM
Comments:
thank you, MrsDoylesCat
---
6/29/06 at 10:03 AM
Comments:
Yes Laura, I had a bad experience with a smiley download like that some time ago. I do love those new Smilies though!
Hikity, The Villa Golitsyn has returned , many thanks. I too doubt if it is being filmed now either. I think this might be "one that got away"

---
6/29/06 at 08:43 AM





What is your location?

Italy



Comments:




Hikity, a very OT question
I see you use smileys that I can download/install.
Is it something that your computer likes? lol, I know it's a silly question but I downloaded and installed a similar thing, it was by Hotbar, but it also installed a bar, the weather forecast,, the search and much more I didn't want, PLUS some spyware so I removed everything.
I am really tempted to have those emoticons but I would like to have a feedback before

Thank you in advance
---
6/28/06 at 04:05 PM
Comments:
Hihi, Sabine, at least Peekabooh knows now what she has to do when being in Wuppertal - I promise I take her on the Schwebebahn and in the zoo. Pina Bausch - most probably we don't get tickets anymore. Ol Röntgen we forget, instead I show her the Königsallee in D'dorf.
My question was nothing important. Just wanted to know what this somewhat funny:
might mean from your post below???
Peek, you need at least 2 weeks holidays for beautiful *cough* Wuppertal...and bring some money for the above-mentioned exclusive street!
Nightynight everybody
---
6/28/06 at 02:31 PM
Comments:
Hikity, do you really think it's unlikely that AR will visit Wuppertal?

We know that he loves to travel and sightsee. I am sure that he's always wanted


- to take a ride with our unique Schwebebahn
- visit our lovely Zoo (no giraffes, but two adorable baby elephants named Kibo and Bongi)
- see a Pina Bausch dance performance
- visit the birth house and museum of Wilhelm Conrad Röntgen (the inventor of the X-Rays)
- have an original Bergische Kaffeetafel at Schloss Burg
See, I am sure you don't think it unlikely anymore that AR will visit Wuppertal. Who could resist so much fun?
Sorry, maybe I am a bit slow but I have no idea what you want to tell me with that cute smilie.

No, I am not studying English at the Uni in Wuppertal. By the way, if you like, you can email me!
---
6/28/06 at 12:52 PM
Comments:
Chalebh, this recipe was from Lex to Dee, but it seems different to the one below:


Pre-heat oven to 220` (190`Cfor a fan oven)
For 8 scones you'll need

2 c. flour
2 tsp. baking powder
1/2 tsp. salt
1/4 c. butter
(and if you like add buttermilk)

Combine flour, baking powder, and salt. Add butter. Combine with your fingers, until coarse crumbs form.
Add buttermilk.
Quickly stir to form dough.
Roll the dough onto a lightly floured surface to approx. 1 cm thickness, cut into 8 scones using a 7cm cutter
or base of a mug and place onto a lightly greased baking tray.
Brush the tops of the scones with milk or beaten egg to glaye.
Leave to rise for 5 mins at room temp.
Bake in the centre of the oven for 10-12 mins until they're golden brown.

Is properly served with Earl Grey tea, of course!

For a different flavour you could try adding 25g grated cheese or dried fruit.
I wish you success ....
---
6/28/06 at 12:47 PM
Comments:
BTW, Sabine, what does this mean:
---
6/28/06 at 12:46 PM
Comments:
Sabine, now that's bad luck, poooh. On the other hand, Scotland is waiting for you - and such holidays are much more worth than an evening with TT. Don't worry the OooA will NOT be there...
And one question: are you studying English in Wuppertal by any chance? Because we could meet on level O.09 then,
Peek, I have to learn about my exam schedule first, which I should get some weeks before the 2nd of September. I know a nice hotel here which doesn't cost you a penny....
---
6/28/06 at 12:13 PM
Comments:
@ Hikity & Peekabooh
I would love to meet you for this Tom Tykwer Perfume Event in Wuppertal but unfortunately I will not be in town.

I am proving VERY bad timing this year. I was in London end of April for 1 week but went home 1 day before the Q&A. I will be in Scotland end of August/beginning of September. Of course I will be in Edinburgh AFTER the festival. So, again no chance to meet AR. And because I am in Edinburgh beginning of September I can't see Tom Tykwer in Wuppertal. If against all odds AR will also come to Wuppertal I'll kill myself.
Yes, I think everybody can go there. But I am quite sure you have to purchase tickets. I, however, couldn't find any information on that. The website of the location where this event is going to take place www.stadthalle.de hasn't listed it yet.
Hope you two can make it to this event. I am sure it's worthwhile.
---
6/28/06 at 11:48 AM





Comments:


Hikity und Sabine, I would like to join you on September 2th if I can make it. Keep me informed...

---
6/28/06 at 11:33 AM





What is your location?

Canada



Comments:




I went to the Da Vince Code last night and i couldnt help think of a slight resemblance to the movie Dogma. I mean with the last Zion thing, i mean Chris Rock ( Ruffus) says that Jesus had brothers and sisters and the Da Vinci Code says that Jesus was married, but in both they say for centuries that Church has more or less hidden the truth. It was an interesting theory.

Anyways i was also thinking of something else, both Gary Oldman and David Thewlis start filming in Aug and Jason Issac starts in Sept or something around there, so maybe Alan has a two part filming schedule. He probably agreed to do Snape after he committed to other stuff, wanted the summer free to do MNIRC or TVG. I didnt think that three weeks of filming would be enough for his role in Order. But then again, they are probably going to cut short his role again and just have him with the occasional showing and the occulmency lessons. ( they cannot skip the occulmency lessons as they already hired the actors for Snapes Worsts Memory chapter). Ah, you never know, even though he has a pretty large role in book five they can cut it short if they want. But when it comes to book six, well it should open and end with Snape.............
---
6/28/06 at 07:56 AM
Comments:
And this could be of interest for German Tykwer fans, too:
http://www.tomtykwer.de/01_neues/index.php
---
6/28/06 at 07:48 AM
Comments:
Sabine, thanks so much for the info. I haven't had time to check it or to participate in the university course led by Frau Hummel as I am in the middle of my exam preparations. Do you think, everybody can go then? Are you participating in Wuppertal liest ein Buch? I was convinced that TT comes cz he is from doubleyouuppervalley
. If I have no exam the next day I am coming. We could meet.
---
6/28/06 at 06:42 AM
Comments:
thank you Peekabooh and CatsPlay, I was just looking for new stuff about Dogma
---
6/28/06 at 12:23 AM
Comments:
Thanks, Dee. Let's wait what my attempts will look and taste like
LG Chalebh
---
6/27/06 at 06:34 PM
Comments:
Chalebah -- I was given this scone recipe from an new UK friend after my trip. It's suppose to be authentic. I've made it three times - the first time was light, flaky and PERFECT, the second time dry and terrible, and the third time okay. Obviously, I'm not doing something consistantly! But... the first time was so good I keep trying to duplicate it!

2 cups all-purpose flour
1 teaspoon cream of tartar
1/2 teaspoon baking soda
1 pinch salt
1/4 cup margarine
1/8 cup white sugar
1/2 cup milk
2 tablespoons milk

Preheat oven to 425 degrees F (220 degrees C). Line a baking sheet with parchment paper.

Sift the flour, cream of tartar, baking soda and salt into a bowl.
Rub in the butter until the mixture resembles fine breadcrumbs. Stir in the sugar and enough milk to mix to a soft dough. Knead lightly. Roll out to 3/4 inch thickness. Cut into 2-inch rounds. Brush with milk to glaze.
Bake at 425 degrees for 8-10 minutes. Cool.

---
6/27/06 at 04:30 PM
What is the URL of your HomePage? (include "http://")
http://www.rickmanalysis.com
Comments:
Kevin Smith also has a blog at
http://www.silentbobspeaks.com/
It is interesting reading, and he mentions AR in passing from time to time. I think there is a search feature on the blog.
---
6/27/06 at 12:35 PM
Comments:
People living in or near Wuppertal, Germany might be interested in this:

Tom Tykwer is going to visit his home town Wuppertal on September 2nd for discussion and reading of "The Perfume".

Tom Tykwer will bring his crew. Okay, I do not believe that this includes Alan Rickman but this event could nevertheless be quite interesting.

For more information go to:
http://www.wuppertalliesteinbuch.de/

Samstag, 2.9.06
20 Uhr Historische Stadthalle, Mendelssohn-Saal
Großer Abend mit Tom Tykwer und seiner Crew
Lesung und Diskussion
Es liest die Schauspielerin Jessica Schwarz
---
6/27/06 at 12:06 PM
Comments:
Laura, I suppose the forum is diverted (sorry don´t know if this is the correct word) from Kevin´s website;
AR is a close friend of Kevin... they "did" Dogma together...
---
6/27/06 at 07:41 AM
Comments:
thank you! that's why I found so much on KS and nothing on AR, ehehe, thank you
---
6/27/06 at 07:24 AM





What is your location?

Indonesia



What is the URL of your HomePage? (include "http://")

http://alan_rickman_freak.blogs.friendster.com



Comments:


Laura i don't know if this will do any help but, Askew is a forum or something that is connected with Kevin Smith.
---
6/27/06 at 06:50 AM
Comments:
Hello,
I was doing searches for AR and I found askewoogle.com..lol, what is that? does anyone know it?
---
6/27/06 at 12:19 AM
Comments:
The Closet Land DVD (RC2) is from Spain, e.g www.dvdgo.com sells it.
That is where I ordered mine. The only problem is that the shipping cost are outrageous. So it might be better to buy more than one DVD there. I checked the site and they still sell it, they also have a version of Rasputin and Thérèse Raquin in their catalogue.
The Closet Land DVD has the original English version, but no English subtitles. The only subtitles are in Spanish (but you can suppres them in the English version). And there is a Spanish soundtrack too. There is (as far as I remember) one bonus on this DVD it's the trailer from the San Sebastian Film Festival, but it's in Spanish.
If someone need a guide how to access the English Audio track, I can check how it works with my DVD player and post it here.
And now something off topic:
Does anyone have a good recipe for Scones? Can you post it here? No problem if it is in oz.
LG Chalebh
---
6/26/06 at 04:50 PM
Comments:
I bought a DVD of the first Wallace and Gromit on eBay once and, aside from the fact that it wouldn't play at all, the only clue was that the copyright statement/warning on the disc had misspelled words and improper grammar. Otherwise it looked identical.
---
6/26/06 at 04:43 PM
Comments:
My issue is just that I don't read ANY Spanish and had no idea that this was my only option. YES, the English sound track was on there, but I had to be able to READ Spanish to find it and just pressing the "audio" button did nothing.
---
6/26/06 at 02:11 PM





What is your location?

Germany



Comments:




Oh, sorry, Catsplay. I see that I typed too slowly. When I started my post, yours weren't up yet.
---
6/26/06 at 02:10 PM





What is your location?

Germany



Comments:




There actually is an original Spanish DVD of "Closet Land" that also has the English language track. It was produced in Spain, and Spanish online shops sell it. Of course, it's possible that someone copied it and sells the copies now.
---
6/26/06 at 02:09 PM
Comments:
And, the Closet Land DVD does not have special features. Not all DVDs do.
---
6/26/06 at 02:08 PM
Comments:
Sorry, I mean English soundtrack.
---
6/26/06 at 02:07 PM





Comments:


The only known version of ClosetLand that I've ever heard of is the Spanish version. I'm not sure I understand the issue, other than having to dig around a little and find the English subtitles...?
---
6/26/06 at 01:17 PM
Comments:
Hikity--This guy was actually from here in the states...the one I got Closetland from. Dark Harbour also came from here in the states. And you know, the DVD case looked "real" and DVD itself had the matching print/picture, but I guess all of that could be copies. I have another one coming from Canada I believe. I did finally manage to find the English track on Closetland but I couldn't have even gotten close without help. It's just frustrating. I think I'll stay away from from ebay for AR movies or really any kind of movie! You just don't know what you'll get.
But thanks for your advice! Maybe I will write down all the Spanish options on my DVD and someone can tell me what they all mean!
---
6/26/06 at 03:18 AM





What is your location?

england



Comments:


Hikity: Sounds like a pretty good idea to me.

Well, we scraped through again so I'm afraid that Germany will have to put up with the hordes a bit longer. I can't believe how much these guys drink - or how they can afford it! Let's hope it's the party atmosphere that prevails.
---
6/26/06 at 02:35 AM
Comments:
bronte, right, we don't wait until people kill each other because of stupidity and drunkeness - if you are drunken and go on the rampage the police can a) put you in a sobering-up cell over night and b) charge you for any damage done plus extra fine and c) in very bad cases send you home
Stuttgart is located in a kind of funnel (basin), it often has very bad ozon levels in summer (you can actually check them every day on the market place) and it was very hot and humid that day. You can easily get headache then or become a bit aggressive...the problem is the alcohol
---
6/26/06 at 02:27 AM
Comments:
Just to let you know about this e-bay seller (here in Germany it's "screenboy"), who offers masses of AR films on DVD in Spanish/English. I don't know where he bought it, or whether he copies films (I am convinced about it) - I am sure it's not legal stuff and that's the reason features are missing or the DVD doesn't work with every player (as is in my case with Thérèse R.). I am astonished how much stuff related to the OooA has come up in the last two years and for stupid prices - and some are definitely FAKE - so be careful here.
---
6/25/06 at 11:53 PM





What is your location?

Indonesia



What is the URL of your HomePage? (include "http://")

http://alan_rickman_freak.blogs.friendster.com/rickmesmerized/



Comments:




SnoKat~ If i'm not mistaken, there's some people in the house who know how to switch that DVD to the English version
Just wait a wee bit..
---
6/25/06 at 03:32 PM





What is your location?

Canada



Comments:




Hi Sno-cat, I had the same problem with my copy. I played around with the remote for my cheap dvd player(audio and subtitle buttons) and succeeded in changing the language from Spanish to English. Believe me if I can do it you can, and I had no on screen menu that worked. Email me if you want more details.
---
6/25/06 at 10:37 AM
Comments:
Okay...I'm going to stop buying my AR DVDs off of ebay. You just never know what you are going to get. I got my copy of Closetland and though it said it was English/Spanish...all the menus are Spanish. I don't read a lick of Spanish and couldn't figure out how to even get the English track to play!! I finally emailed the guy and he told me where to find it, but still I was searching blind. This is the second AR movie I've gotten that is bare bones with no extra features to the DVD except scene selection. Also I hate paying $7-$9 for shipping when I only pay $5 or $10 for the movie itself!
I went to amazon and found two Truely and Big Adventure for reasonable prices with reasonable shipping and no stripped down copies.
Lesson learned!
Also, I found Closetland stunning. AR said that playing Valmont bothered him, I wonder what playing the interrigator did to him!! That man made Valmont look like a Cub Scout! If only I had the chance to ask him a few questions....and some other things...
---
6/25/06 at 08:33 AM





What is your location?

england



Comments:


Vicki: Yes, I'm curious too. let me know if your friend has any news.

Violence in Stuttgart very disappointing. However, it seems that most of the arrests were "preventative". Looks like in Gremany they can arrest you if you haven't actually done anything illegal but you look as if you might.

Reminds me of one of Max Wall's rhymes (English comedian from first half of last century)

I like the girls who do
I like the girls who don't
I hate the girl who says she will and then she says she won't
But the girl I love the best,
And I think you'll say I'm right
Is the girl who says she never would but looks as though she might.
---
6/24/06 at 09:05 PM





What is your location?

Los Angeles



Comments:




bronte - I have a friend who works for the BBC here in L.A. (His office would have handled the distribution to A&E). I wonder if he has any inside info? I am going to e-mail him and ask him if he knows. I'm extremely curious now.

Ooops....I hear there was some ugliness between some German and UK fans at the world cup (some issue over tickets, I think). There's always a few that are going to give the majority a bad name. Good luck to both teams!
---
6/24/06 at 01:45 PM





Comments:


Sevvy and I are in the Chat... anyone wants to join us?

---
6/23/06 at 01:01 PM
Comments:
Hikity, glad you like it
You have email
---
6/23/06 at 11:42 AM





What is your location?

Brasil



Comments:




CLAUDIA, my mother is 46, it's not old at all.
Beautiful pic!!
And...
Brasil 4x1 Japan
Would Brasil play against England these days?Have a nice weekend everybody!!
Have a nice weekend everybody!!
---
6/23/06 at 11:22 AM
Comments:
Laura!!!!!!!!
Beautiful pic, 10000 thanks
Claudia, I don't know but my guess that you were 14 when you started seems not to be so far-fetched!!
Wish you all a wonderful and exciting weekend...






---
6/23/06 at 09:52 AM
Comments:
Beautiful pics, Claudia!
46 IS young!
Happy birthday or belated birthday to everyone and enjoy the weekend
---
6/23/06 at 08:21 AM





What is your location?

GA



Comments:




Thank you all for all the congratulations and well wishes! We are having quite a bit of fun with this one. This is my son's first child and its even been fun to watch his reactions to everything.

I haven't had the chance to hold a newborn since 2000 when my granddaughter was born. So to quote Frank Barone....I'm doing as much "sucking in the youth" as I possibly can. LOL

I did start young (nooooo not at 14 *grin*) and my daughter started young as well. But it also might need to be mentioned that I AM 46 years old. Many people here might not consider that to be young.
TGIF everyone!
---
6/23/06 at 04:45 AM





What is your location?

england



Comments:


Vicki: The only problems I can think of with releasing bits of MI-5/Spooks are those I mentioned before - or some copyright thing? Amazon.co.uk has DVDs of the first three series on sale, fourth series to be released this September. It was certainly very popular in the UK - the week's must-see program.



---
6/23/06 at 04:40 AM





What is your location?

Indonesia, typing with fan and AirCon on.



What is the URL of your HomePage? (include "http://")

http://alan_rickman_freak.blogs.friendster.com/rickmesmerized/



Comments:




Back from the mountain! Gee... All that mountain fresh air forgotten as soon as i'm back to the city
So hot!
Well Claudia! Congratulation for your new birth grandson!
---
6/23/06 at 12:34 AM
Comments:
Claudia: Cute! But they grow so fast, so enjoy the time while you can craddle him in your arms without his protest
Pudd: Thanks for the pictures. That was a big party as well. And I heard some Dutch fans took a bath in the fountain as well. So don't worry about anybody's behaviour. There haven't been an reports about hooligans or what-so-ever.
And the next party in Frankfurt is on it's way, that is if Brasil beats Ghana...
LG Chalebh
---
6/22/06 at 11:00 PM





What is your location?

Canada



Comments:




Well well, congrats Claudia. What a beautiful bundle. Enjoy. And to all the party goers, you too enjoy. WC of Soccer, what a party and me, well i just came back from up north fishing and camping. Nothing to exciting except the 20lb Jackfish i caught And what a battle that was, the fish and i were both tired after that 20 battle. Glad to be back, love the new pictures that i havnt seen before, thanks all. Its late and must sleep, catch you up tomorrow.
---
6/22/06 at 05:02 PM





What is your location?

Los Angeles



Comments:




Catsplay - YES!! Megan Dodds played Christine Dale the American CIA agent who has a little fling with Matthew MacFadyen..........WOOO-HOOOO! Hot stuff!
It really was a good series....*sniff* I miss it.
---
6/22/06 at 04:44 PM
What is the URL of your HomePage? (include "http://")
http://www.rickmanalysis.com
Comments:
I'm not familiar with Spooks, but I swear I was just reading somewhere today that Megan Dodds is/was in it. Is that true?
---
6/22/06 at 04:42 PM





What is your location?

Los Angeles



Comments:




bronte - regarding MI-5/Spooks - I think they stopped airing it because A&E (the Arts & Entertainment cable channel that was showing it at the time) only bought the rights to the first two seasons. Perhaps if it had been wildly popular (although, I can't see why not...it was really good, imo) they would have purchased more. One of the major problems was they kept shifting the air dates and times so it was difficult to find the show sometimes. All I know is they stopped at the end of season two. So, thanks for the link to the Spooks site....I can sort of find out what happened later on.

P.S. I just checked out the A&E website and it appears to be permanently off the schedule. However, there is an interesting sentence on their DVD page where they are selling (at a princely sum, I might add) the DVD's for the first two seasons. It says for season two:

See the scenes that A&E could not air in this complete, unedited DVD collection of the tense British series' second season.

Hmmm....so now I'm starting to wonder.......? Why couldn't they air them???????
---
6/22/06 at 01:46 PM





What is your location?

London



What is the URL of your HomePage? (include "http://")

http://lexnixon.co.uk



Comments:


http://lex-nixon.livejournal.com/

If you're interested, I just posted the Perfume movie poster there ( Today's entry)

Alas, no Alan *heavy sigh*

Bye bye


---
6/22/06 at 11:44 AM
Comments:
bronte, I was only joking, but I know what you mean - I once was completely shocked in Tenerife
and Puddingdale is right: it's amazing how peaceful and nice people from all walks of life are - it should always be like this, especially in matters of sport! I think our motto - stay with friends - has a deeper sense than I thought of at the beginning. Pudd, you look nice, don't worry
---
6/22/06 at 10:15 AM
Comments:
Vicki - thank you, though honestly, I do not normally look like that
But I guess our Baccus would not recognize himself in those pictures either (at least I hope he wouldn't) *lol*
bronte, do not worry, your countrymen are behaving quite well over here. As usual, it is only a minority causing trouble and that minority is not English only. I must say, it is great how peaceful the English and all the other guests are over here and how everyone celebrates and hugs no matter what team they support. I can only say the English and the Swedish LOVED each other

So, no reason to be ashamed, it is a big peacefest here. All right, there is much too much beer involved, which is not my cup of tea (or beer *lol*), but that is a different matter...
---
6/22/06 at 06:41 AM





What is your location?

england



Comments:


Hikity: We're not all like that - really. It seems better this time (although we haven't lost yet), but in the past I have felt so ashamed of my country-folk. I confess that once when in Spain I said I was Scottish (well, my grandmother was).

Anyway -
to all the lads whatever country they are from and lets hope we have some good games.
---
6/22/06 at 03:09 AM
Comments:
Just dropped in and....good grief news news news
Pudd and Chalebh, wonderful - Last time I strolled across the Römerberg it was less orange....but poor Justicia!
Nahima, It's like a drunken Baco trying to figure out where is he - now you know what it means when you hear somewhere: typically English
Claudia - wow, did you start your family with 14 or so?? Gorgeous, cute baby and a beautiful grand-ma. Thanks so much for sharing!
Dee, just 3 minutes ago I read it and I was grinning from one ear to the other so to say....let's stroll and find some street cleaners,
HOWEVER, the fact that he is in London at the moment clearly conveys to me that TVG has not been made into a film after all. He could just stop it anyway for some time and go back on stage. Once he stated how difficult it is to come back on stage after a pause of 18 months...
enough rambling for today and back to learning
Hugs to all of you
---
6/22/06 at 03:01 AM





What is your location?

england



Comments:


Vicki: You said MI-5/Spooks stopped showing without explanation.You don't think it was the TV company getting cold feet because some of the episodes could have been considered a bit controversal in their treatment of terrorism do you? (Apart from not being terribly nice to the CIA - surely not!!!) We have seen something similar in the case of MNiRC have we not?



---
6/21/06 at 08:04 PM





What is your location?

Los Angeles



Comments:




Claudia - oh, baby Ryland is absolutely adorable! There's something about holding a newborn that just does a body good. You can see by the pictures that Grandma Claudia is just glowing. Thank you for sharing those with us.....and now I have a face to put with your posts.....my goodness you're a young Grandma! Congratulations again!

Chalebh & Puddingdale -
What a party! It almost feels like I'm there. Thanks for letting us in on the fun....and now I have another face I can put together with your posts, Puddingdale. You're cute as can be!
bronte - Thanks for the info on MI-5/Spooks. I'll be watching for it. Got to find out what that cliffhanger is!
---
6/21/06 at 03:41 PM
Comments:
Claudia, your new grandson is beautiful!
Do they still have Glamorous Gramma competitions? You'd been in with the contenders!!

---
6/21/06 at 02:10 PM
Comments:
Claudia, congratulations! Thanks for sharing the pictures, he is beautiful. (And I agree with what Juliet says about his slip of a grandma.)
---
6/21/06 at 01:03 PM





Comments:


Does Ricki Niki come in here? I'm hoping she share more details on her firend's sighting!!!

Hikity -- Did you notice WHERE she saw him!!!
(near Paddington Station). Squee!


---
6/21/06 at 12:39 PM
Comments:
Thanks for liking the pics of madness *lol*
Peek, yes I am having a lovely time in Germany while the madness is going on. Usually, I prefer to be in England, though, because (due to some confusion in heaven before I was born) I AM German.
I take it as a compliment though that people keep thinking I might be English...
Nahima, I totally agree, the guy in the fountain was hilarious - even better in motion. For once, I wasn't the most insane person around

---
6/21/06 at 12:07 PM





Comments:


Muchas felicidades, Claudia, por tu nuevo nieto!
Es hermoso y tu tambien te ves bonita.
Nice to meet you two!

Thanks for the football celebrations/chaos pictures, Puddingdale and Chalebh!

My favorite is the one with the guy in the fountain, mwhahahaha!!
It's like a drunken Baco trying to figure out where is he.


---
6/21/06 at 10:58 AM





What is your location?

Orangecountry



Comments:


Claudia, baby Ryland is adorable! I´m amazed how young you look for a Granny of five, unbelievable!

Chalebh, many thanks for sharing the pics of the Dutch Invasion. It doesn´t matter where I look (streets, pubs, schools, businessbuildings, stores) everything is

orange

. The whole country seems to be mad...



Pudd

, thanks for sharing your pics. Seems to me you´ve had a lovely time in Germany.


---
6/21/06 at 09:48 AM





What is your location?

Vermont



Comments:




Claudia, your grandbaby is BEAUTIFUL! Thanks for sharing the pictures.
---
6/21/06 at 09:42 AM





What is your location?

Brasil



Comments:




God! Ive just seen Claudia photos now, CLAUDIA, the babe is completely ADORABLE!!! CONGRATS AGAIN!!!
---
6/21/06 at 09:39 AM





What is your location?

Brasil



Comments:




Hey, I'm loving to see how you English appreciate football and get excited about it.

Because here in Brasil that's almost holly, it's really EVERYBODY getting happy, let's see if we have a Brasil x England.
---
6/21/06 at 09:20 AM
What is the URL of your HomePage? (include "http://")
http://www.rickmanalysis.com
Comments:
Claudia,
Congratulations on that sweet bundle of joy! Five grandbabies -- wow!! I love the name Ryland. And it is a pleasure to see you in the photo -- you are beautiful and much too young looking to have 5 grandbabies!
Enjoy the little one(s)!
---
6/21/06 at 08:54 AM
Comments:
Claudia, congratulations to the little cutie
Hikity, where I was? I was in Frankfurt of course, joining in the party between the English and the Swedish
by the way, finally some pictures of what the English did at the Römerberg and the Mainufer during their first game. (And thanks for sharing the Dutch invasion).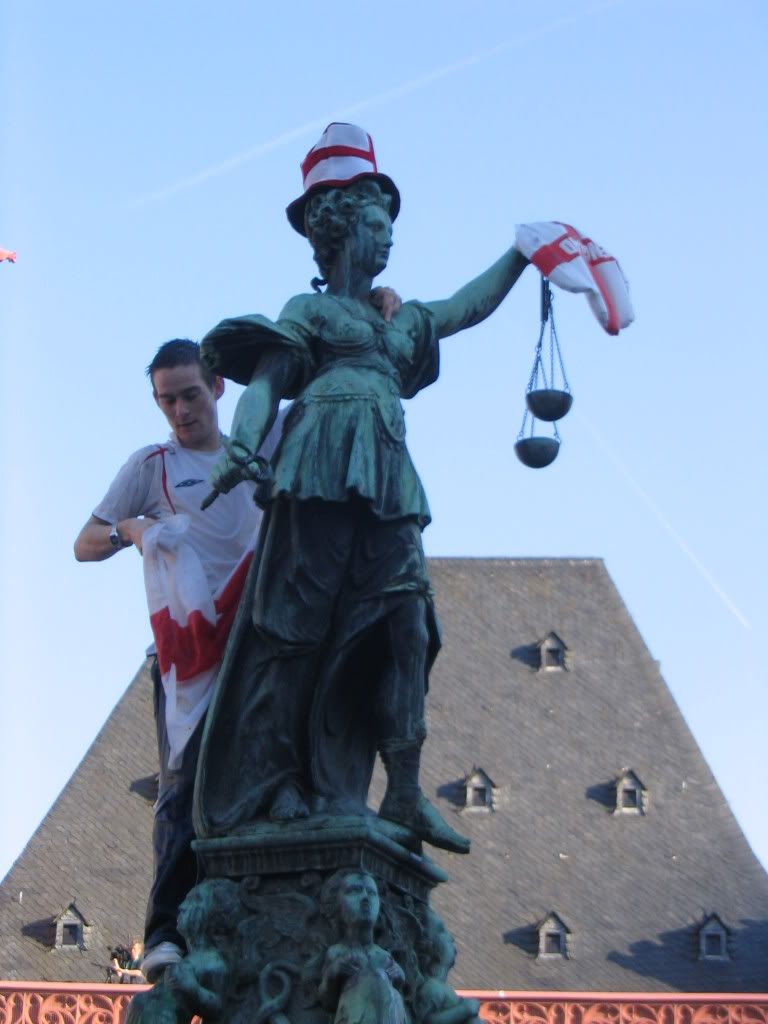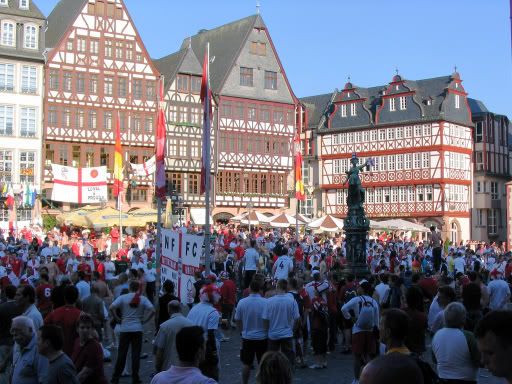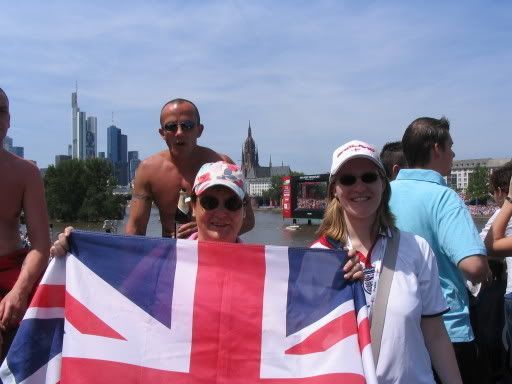 Anyway, I am the blond woman with the England outfit and the stupid smile beside the lady with the Union Jack. And sorry for the size - you know I am not good at computer stuff
---
6/21/06 at 08:18 AM





What is your location?

CT



What is the URL of your HomePage? (include "http://")

http://reedpipe.livejournal.com



Comments:


Oh, Claudia, he is so beautiful and precious! There's nothing like holding a newborn with that mysterious newborn smell, is there? (Love the Clemson onesie too!) Congratulations again!

---
6/21/06 at 07:39 AM





What is your location?

GA



Comments:




Ohhhh Dee, if only I had been on holiday! LOL Seriously though, I am trying my best to get back to the fun here on a daily basis. Its just been really difficult lately.

Very nice pictures Chalebh! Thank you for sharing. I have never been able to get very interested in any sport but baseball. But it does look like football/soccer fans really know how to have a good time!
I have a couple of very special pictures of my own to share with you. Yall will have to excuse me just a bit as I show off our new little bundle of joy......Ryland Blake!
---
6/21/06 at 07:25 AM
Comments:
It's party time!
Finally I managed to take my photo with me (I forgot when the English were here) and here are some impressions from the Römerberg.
It's completely taken over by Dutch football fans (some Argentine mingled within). Their party might not be

as big as the one the English fans made but it's as peaceful and in the same good spirits. (The whole place spells like pub!)
The Justicia on the fountain lost her sword to the English… I wonder what will be missing after the Dutch have left.
That's it for now.
---
6/21/06 at 02:17 AM





What is your location?

england



Comments:


Vicki: According to the Beeb there's to be a new series of Spooks in the UK at the end of the year. Maybe you'll get that.

The last series ended with a major cliff-hanger. You can find out all about it here, but warning - of course ***Massive spoilers***







---
6/21/06 at 12:17 AM
Comments:
Congrats on the newest addition to the family! I'm so glad to hear mom and son are healthy and doing fine! It's great to hear such wonderful news!
---
6/20/06 at 04:55 PM





What is your location?

Los Angeles



Comments:




Chalebh - I agree with you about Matthew MacFayden...woo-hoo! He first caught my eye in a series called MI-5 (which I believe was called Spooks in the UK). Unfortunately, they aren't airing it here anymore. They just stopped showing it without any explanation.
So I definitely had to get P&P when it came out on DVD. But I also have the 5 hour (or something like that) BBC version which I like to watch as well when I'm in the mood. Both are good.
Gosh, it's soooooo quiet. I really should be working but I'd rather play here....there's just nothing going on (boo-hoo).
---
6/20/06 at 02:57 PM
Comments:
Chalebh, hihihi, can you imagine what's going on in Cologne right now??? 80,000 English fans, huhu, Puddingdale, where are you???
and, well, if you must fall then fall, dear Chalebh - NOT my type at all, but imagine, every woman would have the same taste when it come to our male population...
Dee, no one seems to be interested in kidnapping me,hmm. Pity, there is one I wouldn't mind at all!
Sue, what a game! And I like Rooney - he looks sooooo English, hihi, and he plays wonderfully.
---
6/20/06 at 10:18 AM
Comments:
Dee...Thanks for the tip! I hope there is a director commentary on mine, it doesn't have many options, just the movie and "set up". But I will look and you can be assured I WILL be watching this movie again.
---
6/20/06 at 09:06 AM
Comments:
Hi Dee and all.
I am reading daily, following you all but not feeling like to post, I know nothing of what is discussed and I don't watch any sport so I'm "empty" and don't know what to say.
I'm happy to see you all around thou
---
6/20/06 at 05:59 AM





What is your location?

Germany



Comments:




No Dee, neither holiday nor kidnapped. Just too hot in Germany and a little bit too involved with football world cup (or what the US call soccer).

Hikity: I like the BBC version of P&P, it's been the first English video tape I ever bought from a Jane Austen adaptation (after that I bought all the other films and with seeing Sense and Sensibility my obsession with Alan started), but I also like the new movie.

Firstly, its about 3 hours shorter (easier to watch on an evening) , secondly I fell for Matthew MacFadyen
, and thirdly the whole film has a different drive than the BBC film. But that doesn't mean I think it's better than the one with Colin Firth
And buy now some Argentine fans and a lot of German football fans have conquered the Römerberg.
---
6/19/06 at 11:58 PM





Comments:


SnoKat - If you got the DVD with the director's commentary on it, make sure you watch it too. The director reveals a lot of interesting little tidbits of info about the making of the film.

Okay...I've decided that everyone on the discussion board is either on holiday or been kidnapped. Claudia hasn't even been around for a very long time. Weird...


---
6/19/06 at 04:56 PM





What is your location?

puddle of drool



Comments:




Thanks Jess! I did know about the world premiers and Tribeca, but just wasn't sure where it went from there. I will be much anticipating it!!

I just today received my Dark Harbour DVD and of course immediately sat down and watched it. Not a bad movie at all, it dragged a bit in places and I found the character of the "The Stranger" very UNcompelling. But hey, there was the naked swimming scene (yah!). And I will tell you I thought I had the end figured out..well ALMOST. That last kiss scene...had to go back and watch that several times...woooowwwww. That man.....damn....he just never stops amazing me.
---
6/19/06 at 04:07 PM





What is your location?

Brasil



Comments:




Hey SNOKAT!

I'm just as crazy about this as you, fortunately a friend of my wrote Alan on his birthday, and Melanie (his assistant) said that SNOWCAKE'd be released on September in USA and Britain. I'm glad to believe it won't delay a lot to get here in Brasil.

Maybe you don't know but its world premiere has taken place at Bernale Festival on February. And its American premiere was on May, at Tribeca Festival.

You can find Alan videos at this festival here

http://www.bewitchingways.com/tribeca_web/tribeca.htm
---
6/17/06 at 01:07 PM
Comments:
I know Dee!! I was wondering the same thing. And I always think it's ME
because it seems like not long after my last comment things go dead.
But I do have a question....What, exactly is the path of Snowcake? Where is it now, where is it going? Is this a movie I'm going to have to wait to see on DVD? Is it going to be making the tour of Indy Theaters? Has it already been there and gone? Is it a contender for the Oscars for next year or is it too late? I'm dying to see it but a trip to New York just to do so might be a bit much for me.
Maybe that will bring someone out of hiding!
---
6/17/06 at 02:01 AM





Comments:


*looking around*
Where did everybody go?

---
6/15/06 at 04:31 AM
Comments:
Chalebh, thanks for this bit of info!! Very interesting for me as I am attending a Jane Austen course at the uni at the moment. I don't like the latest movie adaption of P&P much, therefore I am not only surprised but a bit disappointed to learn that ET kind of wrote the script (or did she only read it and changed things?). In S&S are considerable changes as well - the men are very much different to the book - but still it is an excellent film what I cannot say about the a-m one with the subtitle: Keira Knightely; beanstalk, looking like a 15 year old girl...ääääääääh - It is supposed to be a film of "manners" not of one person...sorry for my rambling
---
6/14/06 at 06:00 PM





What is your location?

State of Shock



What is the URL of your HomePage? (include "http://")

http://www.snokat.livejournal.com



Comments:




You guys....I just now downloaded the preview of Snowcake. Please forgive me but.....

Holy f*#! I'm stunned into not knowing any other words to say.

When and where can I see this thing.

I need a drink.

Sno
---
6/14/06 at 01:39 PM





What is your location?

Hot Germany



What is the URL of your HomePage? (include "http://")

http://sevvy_snape.livejournal.com



Comments:


Woah, Peek, nice vid!! look at TEH SPEED!
---
6/14/06 at 06:10 AM
Comments:
Ok, forget my post, I should have checked the triva section at imdb. There it says:
Quote:
'Emma Thompson' did an uncredited and unpaid re-write of the script. She receives a "Special Thanks" credit at the end of the film.
Intersting anyhow.
LG Chalebh
---
6/14/06 at 05:02 AM
Comments:
Normally I'm just lurking here, and posting on the other but I've a question which is completely Alan unrelated.
I bought a DVD of "Pride and Prejudice", the one with Matthew MacFadyen, and in the audio commentary the director mentioned on two occasions that this or that scene has been "completely Emma Thomson". He didn't make it sound as Emma would have written it in that way, but that she actually wrote it that way.
I found no information that she has been ever involved with the film or the storybook.
Has anybody more information about that? I'm just wondring.
LG Chalebh
---
6/14/06 at 01:45 AM





What is your location?

London



Comments:


Hi, saw this one on Murph's Russell Crowe page. This is real fun! Find 100 cryptic film titles

---
6/13/06 at 05:59 PM





Comments:


I can't resist: SQUEE!!! I love the little Tribeca clip and HIS HAIR!! It's is SO adorable!! Does the man ever comb his hair? Does he know that the messier it is, the more we want to touch it? egads...! Sorry folks...but I'm DYING!!!




---
6/13/06 at 05:51 PM





What is your location?

Middle of No where



Comments:




I sure appreciate the welcome, guys!

You can never be surprised at the vast array of fan types who are out there. As I said, I've been on some fan boards before and there are people out there who make us all look straight and proper as Amish fence posts! Then there are those who like to think they've been appointed to the said celebrity SS! Like they keep a list of offenders which periodically gets sent off to that celeb and kept track somewhere. Basically, I had to learn when to let stuff roll off my back too!! I remember getting into a major p***ing contest with one woman on a board because she was being so high and mighty over the stupidest details! This little bunch of us were livid. Staying up late in chat trying to figure out how to take this woman down!
Looking back later, it was really ridiculous and no one "won" in the end anyway! We all just looked like 14 yr olds!
I am glad that most every one here I've exchanged words with has been very fun and on the same level. In fact I chatted with a "Laurie" in the chat room and she and I were nearly peeing ourselves over the inane things we both think of!
I'm enjoying myself and look forward to getting to know you all.
Sno
---
6/13/06 at 05:19 PM
Comments:
Peekabooh! I have bruised fingers just watching that!!!
---
6/13/06 at 03:37 PM





What is your location?

the Netherlands (hot hot hot by the way)



Comments:




Absolutely Off Topic but funny enough to share...

http://www.yousendit.com/transfer.php?action=download&ufid=7C984CF2178193EE
---
6/13/06 at 02:38 PM





What is your location?

Los Angeles



Comments:




SnoKat - welcome....I can see that you're just about as crazy as the rest of us...we sisters of the AR addiction support group. I mainly lurk at both boards but once in a while I will burst forth and post. Exuberant squeeage is best reserved for this board however, lest, as Dee says, you be brought down like an antelope. *snort*

Pam - glad to see you're still with us and best wishes to your son for a speedy recovery!

Jen - I, too, do not understand someone being petty or rude in regards to AR's companion. However I see nothing wrong with a little curiosity. I'd say she is one lucky lady! Where/when did you see her? Just curious! *meow*
---
6/13/06 at 01:53 AM
What is the URL of your HomePage? (include "http://")
http://www.tarf.org/forum/index.php
Comments:
I think you're right, Dee--a lot of folks have gone perpetual lurker or have moved to some other place (LiveJournal is hopping with AR fans). I lurk at both of these GB's regularly, but post extremely rarely on the other GB. Tonight was the odd exception--I posted twice! You just never know when someone is going to be way harsh and that's sad.
SnoKat (hello, by the way!), you make some excellent points. I've always found it incredibly odd that some fans will spend literally hours searching for news and, yes, images, but those same folks flip their lids over comments inspired by said images. While I might wax and wane with regard to my interest a bit (it's been a solid 15 years--half my life . . . that's crazy!), it was the sex appeal that first drew me to AR, long before I'd seen his body of work and knew what a fab artist he was. And as a pal of mine who loves him and doesn't actually find him attractive (boggles the mind, doesn't it?) says, he exudes sexiness in just about everything he does, on film or in person. It's just a fact, really.
And the Rima issue: I do have a problem when people are petty and rude about her, as seems to be the case in some groups. I don't get that. Let she who is without blemish, fat roll, stretch mark, or wrinkle cast the first scathing glance. *snort!* Having seen her in person, I have to say that she's actually quite lovely and more attractive than the photos show her to be. She's tiny, with a sweet smile. And yes, I stared a bit. I really think that curiousity is very natural. It's not weird to want to know who a celeb's partner is, what they look like, what they do, whether they live together, stuff like that. Yeah, okay, creating a shrine to her is a bit odd, but hey, each to her fangirly own, I say. Basically, that's my philosophy about all of fandom. If you don't agree with something, scroll on by. Why kick up a fuss, make some melodramatic exit, etc.? No need to tar and feather anyone for having their own views. Life's too damn short to start flame wars over such silly things. Not that I endorse flame wars over serious subjects, mind you.
---
6/12/06 at 09:08 PM





What is your location?

Massachusetts



Comments:


Welcome SnoKat. Dee, I am still here too-mostly lurking and enjoying all the photos on the other board especially the one posted today-woo woo..
All getting better here. My son pulled through surgery fine and is recuperating nicely. Probably withing a few weeks, things will start to heal up again for him.
I have a Scottish visitor coming for two weeks in July. She wants to attend the 4th of July parade with us and go to the picnic and swimming etc. and just wants to get some sun that I guess she said was lacking over in Scotland...
Anyway, going back to lurking but wanted to say hi to all and let you know I am still here.. Have a good one everyone.


---
6/12/06 at 07:06 PM





What is the URL of your HomePage? (include "http://")

http://www.famousartbydee.com



Comments:


Oh, and SnoKat (love the name!) -- I don't think anyone here will stomp on your nice fluffy tail for asking the same questions that been discussed here for years. If you're curious and desperately bored, you can read back through the archives and get an idea of the many flareups.

OT questions and squeeing are what inspired this wonderful discussion board that our kind-hearted Claudia created. Most people just try to keep the GB a place for serious news and sedate commentary to avoid upsetting others/hurting feelings/being brought down like an antelope.

---
6/12/06 at 06:57 PM





Comments:


Vicki - LOL You're right, most of us have weathered a lot of flareups on the GB caused by Rima speculations and over-excited squeeing, haven't we! *many of us here still bare the scars!*

But, are the "deadly serious" folks still there? Seems like there's been a lot of very, very, very young posters lately. And many of the "semi serious" folks (I consider myself in that category) are either in here, just lurking or have moved on.

I know that I don't post on the GB unless I have something pretty serious to ask or say.


---
6/12/06 at 03:54 PM
Comments:
Sticking finger in fan blade
I have been on several different fan/message sites for actors before and it always amazes me, the hard line some people want to draw. Let's put up a fan page about "X" and discuss everything from what they have for lunch to what kind of underwear they have on, but "section B37 or C58" of their private lives is the Bermuda Triangle. Do they think AR is going to pop out of the wood work and say "how dare you discuss my family?!?!...but it's fine that you conjure up all those sexual images of me." I guess it seems like fake altruism to me. I don't believe for 2 seconds that any of us fans wouldn't love a juicy bit of information about Alan or his private life or HER or whatever...no mater what some might protest. NONE of him is any of our business, but here we are anyway. Why pretend our motives are holier than they are?
I might get blasted for this but I've wondered it over the past few days anyway.
Sno
---
6/12/06 at 02:33 PM





What is your location?

Los Angeles



Comments:




O.K....this is the THIRD time I am attempting to post something. I hope it works this time (last two times I finished writing and pressed "post message" and then get the "page not found" page....of course, losing the post at the same time.)
So, here's the short version:
Dee - I think the AR/Rima talk is out of boredom due to the latest drought. It's mostly the same "are they or are they not living together?" question that pops up when there's nothing else to talk about. Innocent curiosity, mostly. But they're treading dangerous waters by posting it over on the regular GB.
Who wants to wager how long before the sh*t hits the fan? I've got 20 bucks that says by Wednesday, at the latest.
Hikity & Puddingdale - I'm having so much fun reading about all the World Cup festivities happening over there. Wish I could join in....even though I've never watched a professional soccer (football) game. It just looks like a fun party. Will any of you be attending any of the games?
And now, for all you cat lovers: A cute kitty for your laptop.
---
6/12/06 at 02:33 PM
Comments:
Dee, Girlfriend, you must not have spent much time with many "tighty-whitey" wearing men! LOL!! I think we are just getting a glimps of the goodies nestled in white cotton underwear!
My opinion of course!
---
6/12/06 at 12:45 PM
Comments:
Lex,

I have it! But I´m in a hurry, will post later.

Hugs

---
6/12/06 at 11:41 AM





What is your location?

Not sure ;-)



Comments:




Thank you for understanding Hikity.
I might go to Frankfurt again for the next England game as it is a bank holiday. I do not know yet, though. Of course, there will not be that many English fans this time, because the game won't take place in Frankfurt.
Anyway, do not hesitate to e-mail me, if you are eager to take part in my next mad adventure
or if you just want to chat.
---
6/12/06 at 11:20 AM
Comments:
Peek, yeah, stupid me - I haven't been to Dior for ages - actually I stayed in Monte at the Hotel de Paris as I love to sit in the Café de Paris in the late afternoons. I should have told you about my secret beach in Cap d' Ail, too, tse tse tse, next time...
Dee, you don't have to spend your holidays in a four or five star hotel - there are enough hotels for decent prices, BUT, the winter is not the best time to go - can be snowy and cold....GO NOW (for more than one reason, *cough*)
---
6/12/06 at 11:12 AM





What is your location?

London



What is the URL of your HomePage? (include "http://")

http://www.lexnixon.co.uk



Comments:


Somebody help please.

Does anyone of you know who T. van Ierland is and happens to have her email addy?
She donated to my fundraise project but didn't leave a contact and I'd like to thank her.

Thanks for listening.

Hugs


---
6/12/06 at 11:03 AM





Comments:


*hugs* Thanks for those replies! I'm home from work sick today -- yet I seem to have enough energy for naughty Alan thoughts!

Okay...I don't want to be crass, but I honestly can't recognise the body part being revealed in that photo. Is that the smooth line of underpants? Or are things "tucked in", so to speak? Or is that...heck I don't know what it is but it's driving me INSANE! *snort* I can't believe that I'm staring up Alan's skirt! Someone should take my temperature. Now I'm getting delirious!!

Thanks for the headsup on the Conan interview, ARdent fan! I'll go back and listen to it.

Hikity - that area sounds lovely! I was looking for a place to take the family over the Christmas holiday -- but that area looks priced WAY out of my budget. Do I remember reading somewhere that Alan has a home/flat somewhere in France?

And what's up on the GB with all the discussion about Rima and Alan living together? Did I miss something there too Some kind of update?


---
6/12/06 at 08:16 AM
What is the URL of your HomePage? (include "http://")
http://www.websitetoolbox.com/tool/gb/janapood
Comments:
Dee: The Conan video is on Claudia's Television download page from 1999. He tells a story of being in an earthquake in the middle of the night and having to find his underpants and passport in the dark. It's very funny!
The Captain Swing photo is this one, I think:
where you can see right up his tunic!
---
6/12/06 at 07:19 AM





What is your location?

not in the south of France anymore...but with lively visions of a naked Alan in bed, thanks to Dee...



Comments:


Hikity, so that was your chopper landing over at Nice Airport. You should have told me you were not by Yacht this time! Where did you stay, the Carlton or the Negresco? Gosh you could have phoned me or something. Now I had to stroll the Promenades and Boulevards all by myself. Shopping at Jean Paul Gaultier and Dior is soooooo boring when you´re not accompanied by a friend!


---
6/12/06 at 01:37 AM
Comments:
Dee, naked or not I would say he is in South France. As it is beautiful and sunny and warm down there with the Mediterranean glittering in the sunshine, Monte Carlo in the front yard of Nice,
with people from all walks of life promenading along the Promenade des Anglais I think you can have extended dreams
In order to get an impression: http://www.trekearth.com/gallery/Europe/Monaco/
and
http://www.alpix.com/nice/francais.htm
---
6/11/06 at 09:57 PM





Comments:


Gee...you miss a couple days on the GB and you can't figure out what's going on with all the OT discussions! Can someone here help!? I'm afraid if I ask for a re-cap on the GB someone willl get angry! *puppy dog eyes*

When was Alan on Conan? Recently? And he really said he sleeps naked??!! egads... And I missed him saying those words??!!

Someone mentioned having a full frontal photo of Alan in Captain Swing. I know he was naked in the play, but have never heard of an actual photo! Is that true?

Do we know where Alan is right now? It doesn't really matter...I just like to dream of him in his actual location (and right now I'm dreaming of him in bed naked!)

Thanks everyone! Sorry to be such a pain!

---
6/11/06 at 12:56 PM
Comments:
Puddingdale, thanks so much for sharing - I wish I had been there with you - we should have mailed before...never mind. I know what you wish to convey - I love both countries
Hugs to everybody and a lovely and warm evening
---
6/11/06 at 10:31 AM





What is your location?

England overload - hurray



Comments:




Totally personal (and only marginally AR related) experience following. So, skip if you do not have time
I was at Frankfurt with a friend yesterday to watch the England-Paraguay match on a big screen and hey: Frankfurt became a British colony within minutes. It was great!!!!! 65000 English people and me in the middle of it all. Felt like a holiday, and what an experience not to stick out with my England outfit and my general madness. Everybody was mad and everybody was speaking English. Hurray!
They climbed trees and signposts, they screamed and shouted, they undressed totally (it seems some merely sleep and some are quite awake "in the buff" *g*) and most were less drunk than expected *lol* And everything was peaceful.

In the end people went to the Römerberg and celebrated in their uplifting weird ways. They decorated the Fountain of Iustitia with England flag, glove and hat and jumped into the water themselves. One guy decorated his own head with algae and peeped out of the fountain like a drunk Neptune. Everybody took photos and had a good laugh. Some chanted and kicked a football across the square. *sigh*
Certainly an experience I will not forget: Finally, the country I feel at home in came to the country I was born and live in. It was like a revelation. Hppe you forgive my urge to share an experience that probably is of no interest to anyone here, but maybe those who cannot get enough of the English will understand
---
6/11/06 at 09:45 AM





Comments:


I think we need to get some sort of a schedule for chatting! Everyone keeps missing each other and I'd sure like to hang out with you all.
---
6/11/06 at 09:14 AM





What is your location?

Vermont



Comments:




Marina, I must have just missed you.
---
6/11/06 at 08:06 AM





What is your location?

united states



Comments:




who would like a chat with me
.
---
6/11/06 at 06:12 AM
Comments:
Have you ever seen those 'scenes' during a movie credits that shows everybody's mistakes during filming?
Nahima, thanks for the detailed explanation - that's interesting. However, I've never seen such scenes or never noticed them?? What is a movie credit? Do you mean those extras on DVD where actors like Hugh Grant in LA are laughing - so they have to cut the scene? OMG, there is a lot in this world I don't know,
---
6/10/06 at 06:44 PM
Comments:
Is anyone going to be around for a chat tonight? Or does everyone else have a life?
---
6/10/06 at 01:18 PM





What is your location?

Indonesia



Comments:




Chris~ You're back! *HUGS*
---
6/10/06 at 09:45 AM





Comments:


Chris, what a nice surprise!
Wicked Winky, the smiley attack that made you laugh so hard was absolutely embarrasing for me, as usual!

I'm happy to read you once again, you always makes me smile. Take care!



Hikity, a 'blooper' is a mistake, I think it's mostly related with actors' errors when filming something but now it's used commonly to general wrongdoings (at least in my country). Have you ever seen those 'scenes' during a movie credits that shows everybody's mistakes during filming? The filmmakers use to include this kind of things mainly in comedy films (for example, Jackie Chan's Rush Hour or Eddie Murphy's movies). Well, those are bloopers!
Don't know if it is only used in USA but 'blooper' is an english word.

Hey Claudia and others interested!
The Sigourney Weaver/gorillas case has been solved. They're announcing in Animal Planet a documentary? or something called 'Gorillas revisited'. This explains why she only talked about that old movie in 'The View', I guess it was a way of promoting this other thing and, if I understood it well, it has the purpose of helping those animals indeed.

Welcome to the newcomers!
Have a nice weekend, AR friends!
---
6/09/06 at 04:59 PM
Comments:
Well I did check into the chat room just now, but I guess I missed you!
---
6/09/06 at 04:20 PM





What is your location?

untied states



Comments:




hi everyone who would like a chat with me?
---
6/09/06 at 01:59 PM
Comments:
Chris! so nice to see you online! I hope you can come back soon , hugs
---
6/09/06 at 01:54 PM
Comments:
Hey Guys--
I'd love to chat sometime. I'm on a lot in the evenings and in the afternoons (central time). So I'm here.
Didn't realize Rush was Australian. Perhaps my generalization was too broad. Not all men of any kind look alike. I was just seeing a trend that I thought interesting. And I guess I prefer those less buff types, since I for sure am less buff and like I'd need the complex of being with a man much more beautiful than me!
Even though I'm in my late 30s I do really prefer the older men. AR just turned 60, Stephen Rae turns 60 in Oct I think. No matter to me! I've always found older...usually MUCH older men tend to fawn over me more, while those young pretty things never gave me a second look. I'm kind of an old fashioned type anyway. So maybe this is my taste finally catching up to my nitch.
My other major love is Chris Noth...you know, Mr. Big from Sex & the City. Though my love/obsession/sickness started from his days on Law & Order. I used to be in heavy with that online fan group. But you wanna talk a basket of nut jobs? It finally got too strained for me. And though I will always adore that man...that giant piece of man-candy that he is, he's just taken a position a little lower on the list for now. I'm sure he understands.
BTW, I do have an online friend who lives in Sheffield and she said she did get to stand behind AR in line for coffee at a play. She's met all sorts of famous people, dated a couple too. Gaahaaahh. Can you just imagine. I met Ted Nuggent once. He was nice, but can we say big whoop?
---
6/09/06 at 01:53 PM
Comments:
wow, Whogirl17, soooo few only?? What about Colin Firth or Greg Wise? Left over for me I hope, . Wait until my photos are developed with GW, huhu

Chris, let the sunshine in, ohhhhh, leeet the sunshine in, yeah - we have great weather here, you are all invited to a barbecue - hubby loves doing this (kind of hunter-gatherer-mentality I assume).

Catsplay, how are things???




Catsplay tonight, twinkle twinkle

---
6/09/06 at 11:32 AM





What is your location?

Pittsburgh



Comments:




Hi SnoKat! Welcome to the Discussion Party! Make sure to stop in the chat room some time. We have a blast in there (although, I've hardly been in there recently!)

I've been going through a British actor phase for my entire life

I love the way you said that the British film industry is "inbred." The exact phrasing I would use! I think the matter really boils down to the UK being a small country with a booming film industry. I always say watch three British ensamble pieces, and you'll get at least one actor common to all of them! This is exactly why I want to move to London: less actors to compete with than in a place like L.A. or NYC!
And I hate to disprove your "all british actors look the same naked" theory, but Geoffrey Rush is actually Australian
Also, I wouldn't say that Alan and Jude Law look exactly the same in the buff, but maybe Jude will grow into an Alan type body as he ages!
As for my other favorite British actors, I have two lists: One I call my harem and one I call my Uncles list. The Uncles list consists of men I admire greatly, but who are perhaps a tad too old for me to be lusting after. They are Alan (of course), Stephen Fry, Hugh Laurie, Ian McKellen, Michael Caine, Eddie Izzard, David Bowie, Gary Oldman, and Tim Curry. My other list are men a little closer to my age: Jude Law, Ioan Gruffudd, Ewan McGregor, Johnathan Rhys-Meyers, Christian Bale, Rufus Sewell, and Stuart Townsend. There are many many others (love Stephen Rae too!), but those are my main guys.
Anyway, back to work. Ta ta for now!
P.S. Chris so glad to hear from you on here! I was just wondering where you'd got to!
---
6/09/06 at 01:30 AM





What is your location?

undercover



Comments:




Hi everyone! Just poped in cause I was really missing you guys! My internet connection at home won`t be fixed anytime soon so I`m writing from my boss`s office now (sssh!!! He thinks I`m doing some sort of research...Better clean my history before I leave *wink* ). Anyway, just wanted to let you know I check the boards as often as I can (hmm, that`s not saying much considering the fact my spare time = 0 but hey! I do my best!). Laura I wish I could have replied to you by email. I`m so sorry to hear about your dog (was it that fluffy white one?
) and about the other problem you mentioned. Keep your chin up, remember that light you were telling me about? I`m sure it`s just after the corner!
Laurie - Heya! ( that reminds me! OUTKAST?! COME ON!
) I miss our chats! Buuuu.....
Hikity - You know, whenever I see one of your posts, that Beatles song comes to mind "Here comes the Sun....
" *sunny hugs*
Nahima - OMG! I laughed so hard seing your "smiley attack" I nearly peed my pants!
Marlina - Glad to see your safe!
That earthquake was such a nasty business, I`m so sorry to hear about all the casualties.
Emteee (I know you`re out there somewhere!
) - I couldn`t check your LJ but a birdie told me about your speech. Good luck with that, I could NEVER manage it! And thank you for your email, that was so kind of you! Send all my love to Cat Bastard!
CatsPlay - I would have loved to discuss that S&S ...ahem...thingy! LOL Maybe when I get back. But what do I se? Are you finally going camping? Ha ha ha!!!! *evil laughter* Want some toilet paper honey?
Oh and I ADORE your "yay" icons! I`ll definetly be using those when I get back so hands off!!!!
Oh and Welcome Aboard SnoKat! I`m in a rush now but I just wanted to say a few things: A Girl With A Pearl Earring was such a beautiful film! But I do admit I watched it for Tom Wilkinson and not Colin Firth. What can I say? I like`em older
. Oh and I LOVE Emma Thompson! Precious!
That`s it! My boss`s coming! Fun`s over! All my love! *air kisses*
---
6/08/06 at 06:35 PM





What is your location?

Vermont



Comments:




Anyone around who wants to chat for a few minutes?
---
6/08/06 at 03:55 PM
Comments:
Thanks, CP! It's hard coming into a new group and playing by all the rules. And I have been involved with enough boards to know there ARE rules, usually unspoken, that need to be followed.
I'll check out your wall paper and look forward to hearing from you later.
Remember not to use any fuzzy strange leaves for TP on that camping trip!!!
---
6/08/06 at 03:39 PM
What is the URL of your HomePage? (include "http://")
http://www.rickmanalysis.com
Comments:
SnoKat
You asked about wallpaper, my master wallpaper thread of my papers can be found here.
---
6/08/06 at 03:31 PM
What is the URL of your HomePage? (include "http://")
http://www.rickmanalysis.com
Comments:
SnoKat --
Just a quick note as I am going out for the evening and may not have a chance to respond before I then leave for a camping weekend tomorrow -- thanks for your kind words about my website on the other page. I always read there AND here, so I might ask that you use this board to reach me as some folks on the other board don't care for it when, well...... never mind. But my LJ or this board are better for thoughts directed about or to me.
I don't have time to answer your post below in detail but I do plan to check out the song you mention, as I am very interested in fandom, specifically the psychology behind it AND how celebrities relate to it.
Take care!
---
6/08/06 at 03:00 PM
Comments:
Hey all--
I'm not sure what area is best for which comments, so I'm here. Also, it seems like you guys all have your own groove going about topics, so I really hope I don't appear to be like too much of an outsider. Also, I'm new.

A couple things...and these are just rolling around in my head.
First of all, I've decided AR says "shut up" better than any other actor out there. And he says it in almost every movie. Also in character, always fabulous. But he does it best when surely. And he does surely superbly.
Second, have you noticed that you can take AR and do a six, no more like a three degrees of separation game with almost any English actor. I've noticed it so much. And even with people who I had never paid any notice to. Like the guy who plays Filtch in the Harry Potter movies, he's in Blow Dry. Bill Nighy who was in Blow Dry was in Love Actually and also Hitchhiker's Guide, all with AR. You can't even begin to connect all the dots with Emma Thompson (love her!). Even the woman who plays Mrs. Palmer in Sense & Sens, was in Nanny McPhee, which had Emma and Collin Firth (Love Actually). And the woman who was the mother in Sens & Sens, Gemma Jones (?), is the nurse in Harry Potter. So do you find English cinema terribly inbred? Or is there just a smaller population in general in which to pick actors from? Or is it just that the core actors are so great and just can go from part to part with no competition?
Also, I'm finding I am in quite an English actor phase right now. AR is my biggest draw right now. But second to him is Stephen Rae, who I find mesmerizing. Perhaps I am the only one, but I actually think The Crying Game is quite romantic. Hugh Grant, always and forever. And Collin Firth. I loved his storyline in Love Actually and I found Girl with the Pearl Earring to be an incredible sensuous movie. And as I said, LOVE Emma. What about the rest of you? Any other BIG favorites in the English acting front.
Another crazy observation...one of which is that I am watching WAY too many movies (I'm between jobs, houses and LIVES basically so I have a ton of time on my hands). Most British actors look the same naked. Now, come on...Those shots of AR taking the dip off the boat....we've ALL LOOKED! Compared to Geoffrey Rush in Quills and even that guy who is always streaking at public events. All very similar body types. Not bad! Not bad in the least!! Just the same in build, body tone and skin color, body hair etc. (yes, my boyfriend is over 1000 miles away right now so I AM thinking of these things.)
Last, but not least...and especially after seeing what a LOON I must sound like, I am finding myself listening to more Sarah McLachlan. Anyone familiar with Fumbling Towards Ecstasy? Probably one of my favorite all time albums. The first song is called Possession. She said she was inspired to write it after receiving some very intense and disturbing letters from fans and this was her attempt to try to see things from their head. I'm finding myself listening to that song more and thinking....yeah, I could get there...that's scary.
The night is my companion and solitude my guide, would I spend forever here and not be satisfied.
Thanks for indulging me and providing a space for my thoughts.
Sno
---
6/08/06 at 03:49 AM
Comments:
Nahima, the bar (no, I am not always thinking of drinking...) is the whole thing above this box,lie Verdana, 2(10pt), B I U etc - it disappeared, is back now but I still can't open the smilies. Never mind.
Peek, thanks for your suggestion, I am going to talk about this with the PC-expert, sweetie. Could be a good idea. Back to my desk, the exam comes nearer and nearer, shudder
---
6/07/06 at 12:37 PM





What is your location?

the Netherlands (who won´t win the WorldCup)



Comments:


Hikity, I´ve got two browsers, Explorer and Mozilla Firefox (I usually work with the latter). But I discovered they work quite differently, even when making a comment like I´m making one now in this Guestbook. It could make a difference for you too but it´s only a suggestion. Anyways I´m glad it all seems okay to you now.

*Hugs Peek*

Is there any news about The Villa? Filming is supposed to be starting this week!!!



---
6/07/06 at 11:11 AM
Comments:
<--- this was the smiley supposed to appear in my prior message instead of the 'tongue' one.
---
6/07/06 at 10:56 AM





Comments:


Good morning everyone!

Hikity, I'm glad you recovered the bar! Btw, what is it? The smiley window or something else?

'An inconvenient truth' looks very interesting indeed, thanks for the links to you and Claudia!
Hope it would make it to the cinemas of my country.

For HP fans! I found this in 'The Snitch-Seeker' website:



Quote:

Each week "Top Gear," at television show in the U.K., has a different celebrity drive on a racetrack and records their time. Yesterday, HP actor Michael Gambon (Albus Dumbledore) was on the show and there is a hilarious video of his appearance.

It's a 10-minute interview in which he discusses acting, auditions, interviews and, of course, Harry Potter. There are also clips of him driving on the racetrack – a section of which was named after him because he nearly rolled his car when he took a turn!



It's a MUST-SEE, definitely! Very funny!
(The direct link to the video is here, just in case you can't enter the other one. It's downloadable!)

There are other celebs videos in the 'Top Gear' website, I'm interested in one of Stephen Fry (I like that guy, he is very talented and witty), could anybody here let me know how to grab it? I've not been able to see it fully because of my stupid-turtle-dial-up connection.


Besides, there's another link on the main GB (thanks to Michelle!) that it's like a radio show where AR talked about 'Blow Dry'. I do want to have it too!
My english hearing ability is not very good so I need to hear again and again in order to understand the whole thing, that's why I prefer to endure the downsloooowding process best. This way I can play whatever I want at anytime.

Thanks in advance! I will appreciate the help heartily.
raying:

---
6/07/06 at 02:04 AM
Comments:
Well, at least the bar is back in place again....
Claudia, I let my PC check by an expert today or tomorrow - thank you for your support, Claudia and Peek (another browser ?? How that, I have got my explorer and that's it,
)
Catsplay, do you have the link to BBC radio? Just in case:
http://www.bbc.co.uk/radio2/shows/wright/
but I can't find anything about WTF is Kenny Rogers
---
6/07/06 at 01:43 AM





What is your location?

England



Comments:




Hi there catsplay,

I so forgot about this message board yesterday,doh....

Hope you get the show,its on in the afternoon by the way...

Cheers...
---
6/06/06 at 12:40 PM





What is your location?

GA



Comments:




I'm not really sure what's going on with the smilies Hikity. I'm sorry they are giving you so many problems. I went into the admin panel and I don't see anything that looks like it might be causing a problem. I sent in a help request to see if they can give me some answers.

As for An Inconvenient Truth! I'm so glad yall are talking about it. I can't wait for it to open close to me. From what I've seen of the film, Al Gore does a fantastic job in getting the message across. I hope it will help. Here's the website for the film. An Inconvenient Truth
---
6/06/06 at 11:25 AM





What is your location?

Sunny Netherlands



Comments:


Hikity, have you tried to open this site with a different browser? That might help sometimes.


---
6/06/06 at 10:28 AM





Comments:


If someone of our British friends is interested, I received a notification of Shared Experience today:

Trafalgar Studios and Shared Experience present a unique FREE event

INSIDE OUT THEATRE DAY Jane Eyre

THURSDAY 8th JUNE 4.30pm-6.15pm on stage in Studio 1

This is a real and exclusive insight into the workings of Shared Experience and Polly Teale's universally acclaimed production of Jane Eyre, currently playing in Trafalgar Studio 1.

Join the cast and creative team on stage in Studio 1 where they will show you scenes, techniques and ideas used in rehearsals - asking for your feedback along the way.

Then gain an incisive look at set, lighting and sound design with the stage management team.

Free tickets are available as part of the Trafalgar Studios and
Ambassador Theatre Group's commitment to developing education and outreach work for our audiences in the heart of the West End.

LIMITED NUMBER OF FREE TICKETS
TO BOOK YOUR PLACE CALL THE BOX OFFICE NOW ON 0870 060 6632

Please call Charlotte at Shared Experience on the day to confirm on: 020 7434 9248

NAHIMA, now the complete bar is gone....???
---
6/06/06 at 02:30 AM
Comments:
Nahima, YOU ARE A HOOT...Don't worry, I am going to let my PC check this week and then we'll see what happens to the smilies...Thanks for all your effort, sweetie!
---
6/06/06 at 02:01 AM
Comments:
Morning everybody,
just found this new film (kind of docu I suppose) in my e-mail:
http://www.apple.com/trailers/paramount_classics/aninconvenienttruth/trailer/
Thought it might be interesting.
Have a wonderful day
Hikity
---
6/05/06 at 11:40 AM





Comments:


Oh my... what a blooper...


Please Claudia, delete my prior post. I'm sorry.

Hikity, now I understand it's not possible to write the codes here without losing them because what it is going to be seen is the actual smiley!


Well, I can send them to you by e-mail. If you think this would be still helpful to you let me know, I let my address over there.

(and my self portrait smiley here) -->
---
6/03/06 at 04:27 AM
Comments:
thank you, catsplay
---
6/02/06 at 12:22 PM
What is the URL of your HomePage? (include "http://")
http://www.rickmanalysis.com
Comments:
Hi Laura,
That is the Seattle Film Festival.
---
6/02/06 at 11:52 AM
Comments:
http://seattlepi.nwsource.com/movies/272469_filmfest02.html?source=rss
here at the end says Snow Cake is shown on wednesday but I didn't understand what festival it is
---
6/01/06 at 10:31 PM
What is the URL of your HomePage? (include "http://")
http://www.rickmanalysis.com
Comments:
Voting is now open for the first annual
"Pets: An Alan Rickman Love Story" Photo Contest
at my LJ. We have 28 great entries!
---
6/01/06 at 04:00 AM
Comments:
Jule:
in a tent?
I hope the weather turns better soon!!